Manila mayor: Muslim leaders pick Lim over Erap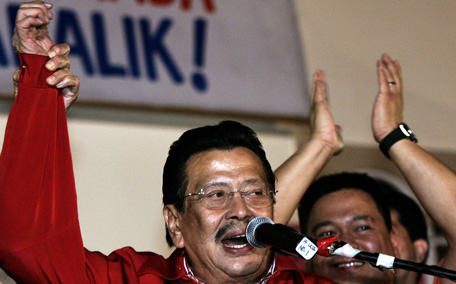 MANILA: Will Mayor Alfredo Lim get reelected or will it be former Philippine president Joseph Estrada's time to rule the city of Manila?

Whatever happens, Lim is currently assured of the support of Muslim leaders in Manila for his reelection bid at the May 13 congressional and local elections.

Published reports said Lim got the support of the Muslim leaders on Tuesday in a meeting at the City Hall, where the mayor assured them that his administration will continue to assist them through Bae Tamano, his Muslim Affairs consultant.

A lawyer and former general and senator, Lim has had a storied career in politics and government service. He first served as mayor of Manila between 1992 and 1998, and became mayor again when he won in the 2007 general elections.

Many observers believe, however, that it is Estrada, popularly known as Erap—an anagram of "pare", which means buddy—who will be the next mayor, what with his immense popularity among the masses. In fact, he ranked second in the last presidential election even when he did not campaign much in the provinces.

Also a former dramatic actor and action star, the 76-year-old Estrada was able to run in the last presidential poll despite the Constitution barring former presidents from seeking reelection, on the grounds that he was illegally removed from office in 2001 after serving only three years out of his six-year term.

Estrada gave up the presidency in a bid to avoid what could have been a bloody people's revolution, following published reports from the Philippine Center for Investigative Journalism that he used public funds to purchase real-estate properties for and sustain the extravagant lifestyles of his mistresses.

Lim, on the other hand, has had a clean slate as a politician, and has been known as a graft buster. There is a gnawing issue against him, however, that he had allegedly approved the summary killings of criminals during his mayoralty in the 1990s.

The Filipino Muslims living in Manila are mostly from the southern Philippine island of Mindanao, where they have escaped infightings between government troops and rebels.
Follow Emirates 24|7 on Google News.