Thousands throng Black Nazarene procession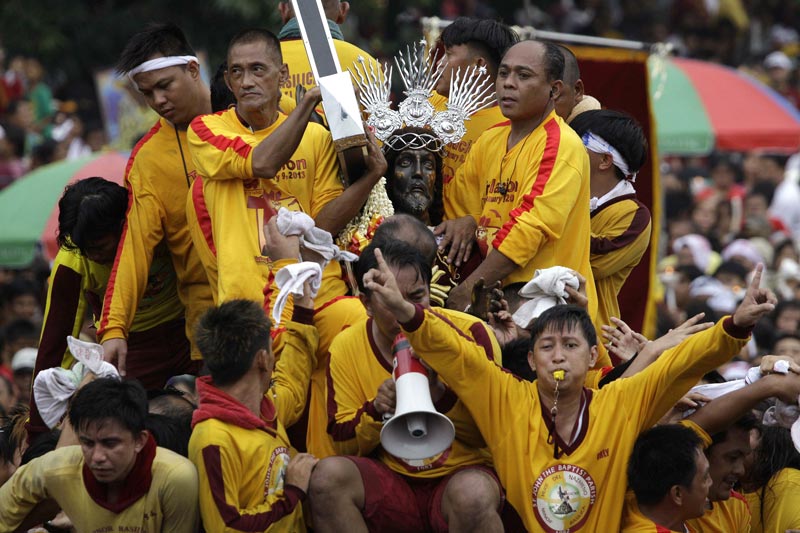 Hundreds of thousands of mostly barefoot Roman Catholic devotees joined a raucous procession through the streets of the Philippine capital Wednesday in an annual ritual to demonstrate faith and seek miracle cures for illnesses and a good life.

Police estimated about 500,000 people left from the parade grounds of Manila's Rizal Park for the daylong march that sees a statue of Jesus Christ pulled through the city's central district.

Wage labourers, the unemployed, slum dwellers and middle-class professionals jostled to touch the statue of the Black Nazarene or wipe it with towels or handkerchiefs in hopes that the mystical powers they believe it possesses will rub off on them.

The blackened, centuries-old, life-size wooden figure of Christ bearing the cross was brought by Spanish missionaries from Mexico to Manila on a galleon in 1606 and survived fires, earthquakes and World War II bombings.

Security guard Jason Mohica believes his 4-year-old son, who was sleeping in a stroller, was revived by the Nazarene after he was born lifeless for several minutes.

"We don't know what happened," he said. "This has been our annual devotion because this is his second life."

Dennis Defensor, a 36-year-old cashier at a construction company, was joined in the procession by his wife to express their gratitude to the Nazarene for giving them a child.

He said he first joined the procession in 2010 wishing for a baby. "Here," he said, pointing to his 14-month-old daughter, "we have been blessed, and then I got a job."

"I pray that my family won't have problems, that we continue to have jobs and my child would be healthy. This will continue until we grow old," Defensor said of the annual sacrifice of walking barefoot for hours along Manila's streets.

The Red Cross said dozens suffered minor injuries and one was seriously hurt.

The crowd is expected to top 1 million by the time the statue is returned to its home in Quiapo Church. About 3 million took part in last year's procession despite the government's warning that it might be targeted by Al Qaida-linked militants. No such warnings were issued this year.

Wednesday's march also took on a political note.

In a Mass before the start of the procession, Manila Archbishop Antonio Tagle called on the faithful to respect life. In a jab at the recently approved reproductive health law opposed by the Catholic Church because it promotes contraceptives and sex education, Tagle said that state funds that should be spent to feed the people, build homes and schools "are instead used for instruments of death."

"I hope that more people will come forward as witnesses to the sanctity of life," he said.



Follow Emirates 24|7 on Google News.