Yoko Ono shells out $10,000 for 'Pablo' victims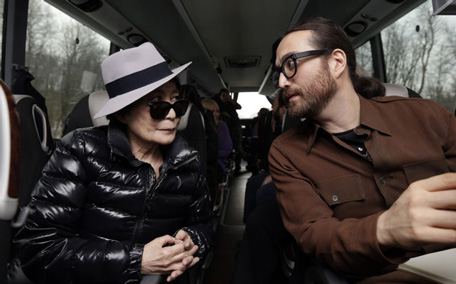 MANILA: Yoko Ono, the widow of pop god John Lennon, has given $10,000 (406,000 pesos or Dh36,728) to the victims of typhoon 'Pablo', which devastated the Davao region, on the southern Philippine island of Mindanao, last December.
The money was remitted to the Philippine Embassy in Tokyo on January 28, according to the Department of Foreign Affairs (DFA), in Manila, which issued a statement last Thursday.
"Ms Ono learned about the disastrous effect of typhoon Pablo in Mindanao following a personal visit she made to the official residence of the Philippine Ambassador to Japan on December 5," the statement said.
The ambassador's residence is where Ono, an artist, fashion designer, and peace activist, spent some of the most memorable days of her life when she was growing up, as this used to be her uncle Iwajiro Yasuda's palatial home.
Built in Tokyo in 1934, the Iberian-style mansion was sold to Jose P Laurel, the third Philippine president who served at the Japanese-sponsored administration between October 1943 and August 1945 during World War II. The Philippine government acquired the property after the war and turned it into an ambassadorial residence.
"When she comes to Japan, Ms Ono finds time to visit the residence to reminisce about her childhood," the DFA said, adding that Lennon's widow has been grateful to the Philippine government for the preservation of the historic mansion.
Ono, who lives in the United States, had also donated money for the relief operations after typhoon Ondoy hit the Philippines in 2009. She has also been providing assistance to schoolchildren in the Philippines.
Official reports said that over 1,000 people were killed while about 3,000 others were injured, and 834 had been missing due to typhoon 'Pablo', affecting 711, 682 families and with damages amounting to 37 billion pesos (Dh3.35bn).
ALSO READ:

Pinay at Oxford bats for Filipino-coined English words



Filipino Meningo alert: Boy dies, another in hospital for contagious disease



Saudi 'spares Philippines death-row convict'

Follow Emirates 24|7 on Google News.