Photos show Sri Lanka executed militant's child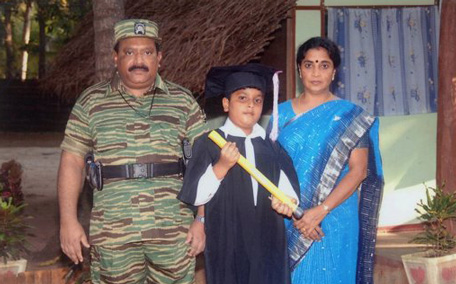 Photos released on Tuesday to publicise a new documentary on Sri Lanka show that government soldiers executed the 12-year-old son of separatist chief Velupillai Prabhakaran in 2009, its director claimed.

The photos, part of a documentary for Britain's Channel 4, prove the Sri Lankan army's involvement in war crimes including summary execution and torture during the island's 37-year-long civil war, according to director Callum Macrae.

The pictures "tell a chilling story", Macrae wrote in an article published in Indian newspaper The Hindu.

In one, Balachandran, the youngest son of the slain Tamil Tiger leader, is seen eating a snack while sitting in a green sandbag bunker guarded by a soldier. A second image shows his bullet-riddled bare-chested body.

The documentary alleges that Balachandran was executed two hours after the first photo was taken.

The images have been scrutinised by digital image analysts, who concluded they came from the same camera, and support video footage of the boy's body uncovered last year, Macrae said.

The Sri Lankan government has maintained that Prabhakaran's family were killed in fighting. The bodies of his wife and daughter have never been found.
"The new photographs are particularly important evidentially, because they prove that Balachandran was not killed in crossfire, or in a battle. His death was deliberate and calculated," Macrae wrote.
"It is difficult to imagine the mindset of an army in which a child can be executed in cold blood with apparent impunity."

"No War Zone: The Killing Fields of Sri Lanka" will be released in March in Geneva to coincide with a UN Human Rights Council discussion on the country, currently facing censure by the United States over its failure to probe war crimes.

Sri Lanka's military denied executing prisoners and accused the British network of engaging in a campaign to tar the country's reputation.

"These pictures come out in time for the UN Human Rights Council meetings. They want to discredit us," Sri Lankan military spokesman Brigadier Ruwan Wanisasooriya told AFP. "No evidence has been presented to us to investigate."
Macrae asked India to support calls for an independent probe and said that Sri Lanka's President Mahinda Rajapakse and his brother, defence secretary Gotabhaya Rajapakse, should be made to answer for alleged war crimes.
The United States on Tuesday renewed its call for a "full accounting" of actions during the bloody finale of Sri Lanka's civil war.
"We continue to be deeply concerned by allegations of violations of international humanitarian law and human rights in Sri Lanka," State Department spokeswoman Victoria Nuland told reporters when asked about the pictures.
Frustrated by Sri Lanka's response, the United States plans for the second straight year to introduce a resolution before the UN Human Rights Council to pressure the island over its record.
Rights groups say up to 40,000 civilians were killed by security forces in the final months of a no-holds-barred offensive in 2009 that ended Sri Lanka's decades-long fight against Tamil separatists.
Sri Lanka denies causing civilian deaths and President Rajapakse sees himself as having brought peace to the Indian Ocean island.
Follow Emirates 24|7 on Google News.