Police bust shock jocks fixing camel races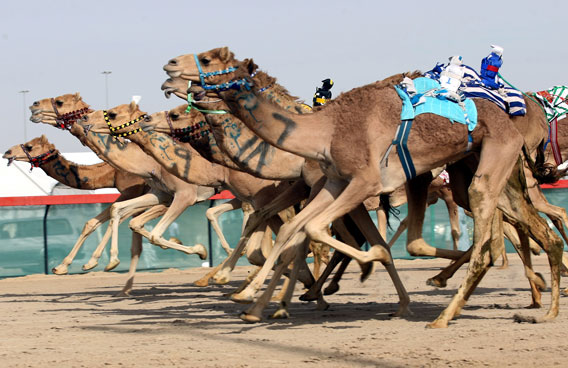 A gang of three Asians has been caught fitting robotic camel jockeys with stun guns to shock the animals into going faster during races.
The rigged equipment sold for up to Dh30,000 to trainers or owners.
The scam was busted after Dubai Police caught the men in a sting following a tip-off.
The head of Criminal Investigation Department, Brigadier Khaleel Ibrahim Al Mansouri, said: "They made the machine for people who wanted to win camel races.
"They put stun guns inside the jockey that sits on the camel so it could send electric shocks. They made them to order and sold them in several countries."
Camel racing is a hugely popular sport across the Middle East, and the top camels can change hands for millions of dirhams.
An undercover officer made contact with the gang during a camel race at Al Hebab in Dubai. He asked to buy a machine and police arrested the main suspect and his friend when they turned up with it.
"The law can confiscate the camels, cancel the race results and ban the person and his camels from participating in any race for a year," Al Mansouri said.
Dubai Police are now tracing customers who bought the taser guns.
Robotic jockeys are used for camel racing in the UAE after the government brought in a ban on allowing children to ride camels in races.
Follow Emirates 24|7 on Google News.