Polish presidential jet 'broke up in air'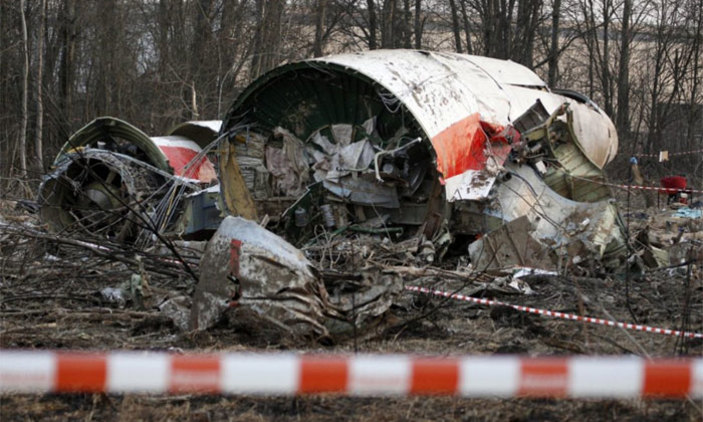 The top investigator of the deadly 2010 crash of a Polish presidential in Russia said Monday that a fresh analysis showed the aircraft broke up in mid-air before hitting the ground.
The claim comes on the day that Poles mark the seventh anniversary of the crash in Smolensk, western Russia, that claimed president Lech Kaczynski and 95 others, mostly senior Polish statesmen.
Poland's governing rightwing Law and Justice (PiS) party, led by Kaczynski's twin brother Jaroslaw, has long insisted it was no accident.
Polish Defence Minister Antoni Macierewicz, who says that the crash was the result of a Polish-Russian conspiracy, last month accused former Polish premier and current EU President Donald Tusk of "diplomatic treason" over an earlier probe into the crash.
After winning power in 2015, the PiS launched a new investigation into the incident, which Polish and Russian investigators earlier attributed to human error and bad weather.
"The plane started to break up and lose parts in the air; they fell to the ground far from where the infamous birch tree was... The tree had no impact on the crash," Waclaw Berczynski, who heads a team of Polish investigators, told public broadcaster TVP Info Monday.
Berczynski said investigators based their new conclusion on an analysis of a conversation between the plane's pilots and Russian air traffic controllers on the ground.
The previous investigation found the crash was in part triggered when the jet's wing clipped a tree near the runway.
Polish prosecutors also said earlier this month that fragments of the plane were being sent to four labs abroad to check for traces of explosives.
Polish prosecutors said last week that based on a fresh analysis of the evidence, they would charge the controllers with having "deliberately causing a catastrophe", a theory the Kremlin immediately denied.
Polish prosecutors had already pressed charges against the two Russian air controllers in 2015: one for "being directly responsible for having endangered air traffic" and the other for "unintentionally causing an air traffic disaster".
Polish justice officials have also been exhuming the remains of the victims to establish the cause of death.
Warsaw has repeatedly asked Moscow to return the wreckage of the plane, but Russia says it will only do so once its own inquiry is over.
The crash occurred as the presidential delegation was heading to a ceremony in Russia's Katyn forest for thousands of Polish army officers killed by Soviet secret police in 1940 - a massacre the Kremlin denied until 1990.
Follow Emirates 24|7 on Google News.