Pope Francis in Philippines: Emotional, rain-soaked and comforting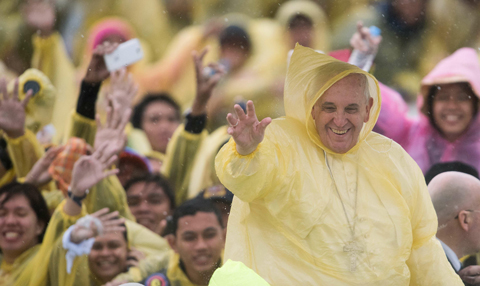 An emotional Pope Francis, wearing a plastic poncho over his vestments to protect him from the wind and rain on Saturday, comforted survivors of Typhoon Haiyan, the Philippines' worst natural disaster that killed about 6,300 people 14 months ago.
"I would like to tell you something close to my heart," he told the crowd as strong wind whipped the area, putting aside his prepared homily to deliver a moving, impromptu address.
"When I saw from Rome that catastrophe, I felt that I had to be here. On those very days I decided to come here. I am here to be with you. Perhaps a little late, I have to say, but I am here," he told emotional worshippers.
Tens of thousands of people wearing yellow raincoats cheered when Francis emerged from his plane in the coastal city of Tacloban, 650 km (400 miles) southeast of Manila. The strong wind blew the white skull cap from Francis' head and rippled his white cassock as he disembarked.
The plane carrying the Pope from Manila left early in order to get to Tacloban because of the bad weather, and was due return to the capital several hours earlier than scheduled.
Worshippers, many with tears in their eyes, stood amid puddles in a mud-soaked field as the pope comforted them.
He said he "respected the feelings" of those who felt they had been let down by God because of the disaster but implored them to move forward in their faith.
"Many of you have asked the Lord, 'Why?' And to each of you the Lord is responding to your hearts from his heart ... so many of you have lost everything. I don't know what to say to you but the Lord does know what to say to you," he said.
Nearly 3,000 victims are buried in the city's almost half-hectare mass grave site. Hundreds are still unaccounted for.
He asked the crowd to hold a moment of silence for the victims and thanked all those who helped the survivors of the worst recorded storm ever to make landfall.
"This is what comes from my heart and forgive me if I have no other words to express," Francis said.

Heroic strength
Saturday's storm was an eerie reminder of Haiyan, which hit the same area with 250 kph (155 mph) winds and created a seven-metre high storm surge, wiping out almost everything in its path when it swept ashore on Nov. 8, 2013.
Speaking at the presidential palace on Friday, the Pope admired the "heroic strength, faith and resilience" shown by the Philippines as well as the solidarity people demonstrated after the typhoon.
The storm destroyed around 90 percent of the city of Tacloban in Leyte province. More than 14.5 million people were affected in six regions and 44 provinces. About one million people remain homeless.
The government estimates it needs almost 170 billion pesos ($3.8 billion) to rebuild the affected communities, including the construction of a four-metre high dike along the 27-km (17 miles) coastline to prevent a repeat of the disaster.
Francis did not mention climate change in either his prepared homily or his impromptu remarks.
However, the Pope waded into the climate change debate on Thursday, telling reporters that he believed that man was primarily responsible for climate change and that he hoped this year's UN climate meeting in Paris would take a courageous stand to protect the environment.
The Pope said his long-awaited encyclical on the environment was almost finished and that he hoped it would be published in June, ahead of the UN conference in November.

Follow Emirates 24|7 on Google News.