Powerful storm hits disaster-ravaged Japan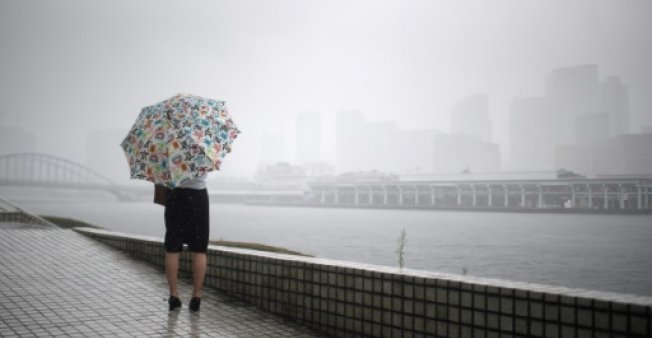 A powerful storm slammed into central Japan on Sunday, bringing heavy rains as it churned across western areas already devastated by floods and landslides.
Typhoon Jongdari, packing winds of up to 180 kilometres (110 miles) an hour, made landfall at Ise in the Mie prefecture at around 1 am (1600 GMT Saturday), according to the nation's meteorological agency.
It weakened after making landfall and was downgraded to a tropical storm, according to the agency, but many provinces stayed on alert.
"We have been on the emergency alert the whole time since the rain disaster" in early July, said Koji Kunitomi, a crisis management official at western Japan's Okayama prefecture, referring to deadly rains earlier this month.
"Fortunately, so far, we haven't seen new flooding," he told AFP.
The storm, after unleashing torrential rain over eastern Japan, was moving further west mid-day Sunday, and authorities in western Japan urged tens of thousands of residents to evacuate before the rain intensifies.
TV footage showed high waves smashing onto rocks and seawalls on the coastline southwest of Tokyo, and trees buffeted by strong winds and heavy rain.
At least 19 people were injured across six prefectures, public broadcaster NHK said.
Rough waves shattered the window of an ocean-view restaurant at a hotel in the resort town of Atami, southwest of Tokyo, late Saturday.
"We didn't expect this could happen... Waves gushed into the restaurant as the window glass broke but we are grateful that customers followed evacuation instructions," an official at the hotel told AFP.
"Fortunately no one was seriously hurt," she said, adding five people suffered cuts from broken glass as they fled.
The storm was moving across the western Chugoku region, where record rainfall in early this month unleashed flooding and landslides, killing around 220 people.

It was Japan's worst weather-related disaster in decades, and thousands of the affected are still in temporary shelters or damaged homes.
The weather agency warned of heavy rain, landslides, strong winds and high waves, and urged people to consider early evacuation.
In Japan, evacuation orders are not mandatory and people often remain at home, only to become trapped later by rapidly rising water or sudden landslides.
Some critics said the orders in Chugoku were issued too late.
Japan is now in typhoon season, and is regularly struck by major storm systems during the summer and autumn.
Follow Emirates 24|7 on Google News.