Princes in the storm: UK wet weather kills 2; Freak wave smashes through cruise ship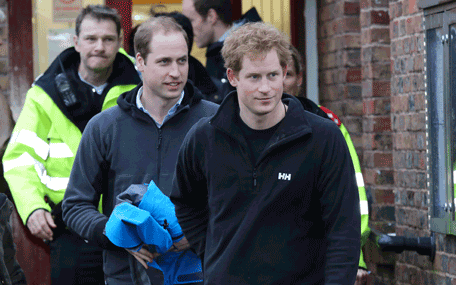 Princes William and Harry pitched in to help flood victims as a new winter storm hammered Britain overnight Friday, bringing violent winds and claiming at least two lives.
After the wettest start to the year for 250 years, the Met Office national weather service said a "multi-pronged attack" of wind, rain and snow was sweeping the country.
Britain's Prince William, Duke of Cambridge, helps with flood defences at a petrol station in Dachet, southern England, February 14, 2014. REUTERS
In central London, police said a woman died and a man was taken to hospital after a building collapsed onto their car in Holborn, not far from the West End theatre district.
Out on the English Channel, high winds sent a "freak wave" smashing through a window of a cruise ship causing the death of an 85-year-old man, the ship's operator said.
Britain's Prince William, Duke of Cambridge, helps with flood defences at a petrol station in Dachet, southern England, February 14, 2014. REUTERS
Several of the Marco Polo's 735 mainly British passengers were injured and two were airlifted off the ship, including the elderly man who later died, according to Cruise & Maritime Voyages.
And in Scotland, two hikers went missing on Ben Nevis, Britain's highest mountain, after they became "disorientated" in the poor weather, police said.
The storm made landfall in southwest England with winds of nearly 80 mph (128 kph) and was expected to bring with it up to 40 mm (1.6 ins) of rain.
Britain's Prince William, Duke of Cambridge, helps with flood defences at a petrol station in Dachet, southern England, February 14, 2014. REUTERS
The Met Office warned of more huge waves and a tidal surge on the south coast of England, where earlier storms wiped out a railway line and damaged historic cliff features.
About 17,000 people remained without power in Wales following an earlier storm on Wednesday when hurricane-force gales left one person dead.
Prime Minister David Cameron reiterated his promise on Friday to do "whatever it takes" to help stricken communities, following criticism of the government's initial response to the flooding crisis.
He has said money was "no object", offering financial support for businesses and homeowners.
"These are extraordinary weather events, but we are fighting on every front to help people," he said.
More than 2,000 army, navy and air force personnel have now been deployed across Britain to help flood-hit communities, and 70 percent of England's fire and rescue services are working on the flood and storm effort.
Tornado attack jets and Sentinel surveillance planes have flown missions over deluged areas, using optical and radar imaging to help civilian authorities coordinate their response, the Ministry of Defence said.
Dutch government sends pumps
A total of 22 severe flood alerts indicating a risk to life are in place, mostly in the southeast of England.
More than 5,800 properties have been flooded since early December while huge swathes of farmland have been inundated.
And communities along the swollen River Thames were braced for more damage after it was expected to reach its highest level in 60 years over the weekend.
In the village of Datchet on Friday, second-in-line to the throne Prince William and his younger brother Harry donned Wellington boots and waterproofs as they lugged sandbags alongside members of the Household Cavalry.
"The Duke (of Cambridge) and Prince Harry wanted to show their support to the flood victims and thought the most appropriate way of doing that was through the armed forces relief effort," a Kensington Palace spokeswoman told AFP.
Buckingham Palace meanwhile said the queen was helping farmers in the southwestern county of Somerset -- parts of which have been underwater for nearly two months -- by contributing feed and bedding from the royal farms at Windsor.
Not everyone was pitching in, however. Police said some residents in Portsmouth, on the south coast, received hoax calls on Friday urging them to evacuate because of impending flooding -- presumably from would-be burglars.
Cameron has said he will seek financial aid from the European Union to cope with the floods, despite his promises to renegotiate London's relationship with Brussels and hold an in-out referendum.
Britain has already borrowed eight "very high volume pumps" from the Dutch government and several Dutch engineers are helping in Somerset, a spokeswoman for the environment ministry said.
Bank of England governor Mark Carney warned Britain's fragile recovery from recession would be affected as the bad weather hits farming and transport.
Follow Emirates 24|7 on Google News.