Putin praises 'mature politician' Kim Jong-Un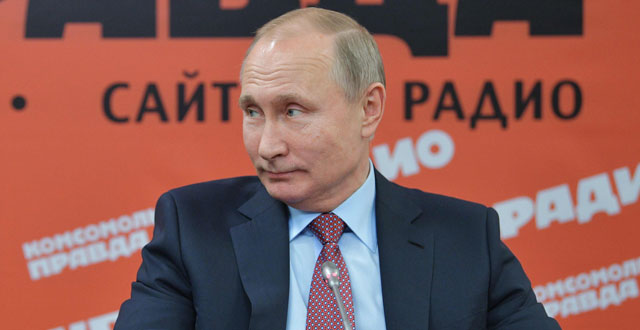 Russian President Vladimir Putin on Thursday praised North Korea's leader Kim Jong-Un as a "mature politician" with a formidable arsenal, but also urged him to defuse international tensions over Pyongyang's controversial nuclear programme.
Kim, 34, has been locked in an increasingly bitter standoff with US President Donald Trump, with the pair trading threats of war and personal insults.
However, there have been signs of a potential cooling after Pyongyang this month unexpectedly restored dialogue with Seoul two years after relations broke down.
"I believe Mr Kim Jong-Un has won this round," Putin told Russian journalists on Thursday.
"He has achieved his strategic task - he has a nuclear warhead, and a global-range missile with a range of up to 13,000 kilometres (8,000 miles), which can now reach practically any point of the globe, at any rate any point on the territory of its potential enemy."
"He is an absolutely competent and already mature politician," the Russian president said.
However, Putin added that it was in Kim's "interest to harmonise, calm the situation".
The Winter Olympics in Pyeongchang next month have long been overshadowed by geopolitical tensions, with the North repeatedly test-firing missiles it says are capable of reaching the US mainland, and detonating its most powerful nuclear device to date.
But Pyongyang - which boycotted the 1988 Summer Olympics in Seoul - agreed Tuesday to send athletes and officials to the Games as the North and South held their first formal talks in two years at Panmunjom in the Demilitarised Zone.
The White House said Wednesday that Trump was open to the US holding talks with North Korea "under the right circumstances", after South Korean President Moon Jae-In signalled a willingness to sit down with Kim.
Follow Emirates 24|7 on Google News.