Qatar to record high fiscal surplus in 2010-2011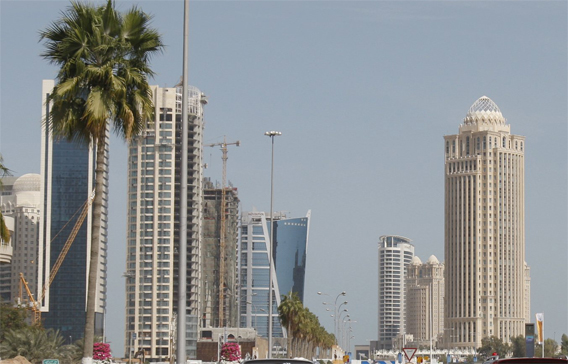 A surge in LNG exports along with strong oil prices will allow Qatar to record a high budget surplus during its 2010-2011 fiscal year although it is expected to be lower than the record balance in the previous year.
Official data showed the fiscal surplus could reach around 10.5 per cent of the country's 2010 GDP compared with earlier independent estimates which put the surplus at around 7.6 per cent of GDP.
"Qatar's budget is expected to record a surplus of around 10.5 per cent in the current fiscal year but it will remain lower than the surplus recorded in the previous fiscal year…this is because of high spending as part of the country's counter-crisis fiscal expansion measures," said the Abu Dhabi-based Arab Monetary Fund (AMF), a key Arab League establishment.
Qatar assumed a surplus of QR9.7 billion in its current fiscal year, which started on April 1. Expenditures were estimated at QR117.9 billion and revenue, mostly from oil and gas sales, at 127.5 billion.
Qatar basked in the highest budget surplus during 2009-2010 because of a surge in revenue although the world's top gas exporter had projected a deficit.
Despite an increase in spending, the fiscal surplus leaped to an all time high of around QR46.3 billion in the 2009-2010 fiscal year, which ended on March 31.
Qatar had forecast a deficit of QR5.8 billion in its 2009-2010 budget despite a slight fall in planned spending for the year. The deficit was assumed on the basis of a sharp fall in revenue from around QR103.3 billion in 2008-2009 to QR88.7 billion in 2009-2010 mainly because of a steep drop in crude prices.
But actual revenue shot up to their highest level of around QR165.6 billion in 2009-2010 due to a large increase in non-oil earnings.
Expenditure also climbed to a record high of QR108 billion from around QR99.2 billion in the previous fiscal year.
"Qatar has been able to post consecutive fiscal surpluses for the past five years due to the continuous expansion of the oil and gas sector, and diversification efforts…the surplus has grown by around 32.9 per cent annually during that period…the 200-2010 surplus is expected to climb to about 13.3 per cent of GDP compared to 10.3 per cent in the previous fiscal year," said a study by the Kuwaiti-based Global Investment House.
In a study on Qatar published in mid 2010, the Saudi American Bank projected the country's fiscal surplus at around 7.6 per cent. The report was released before oil prices started to steadily rise in the next months.
The AMF gave no figures on the expected budget surplus this year but Qatar's GDP is projected at around $110-115 billion in real terms. This means the surplus could be around $11.5-12 billion (QR41.9-43.8 billion).
Turning to the economy, the AFM projected growth in Qatar, one of the fastest growing economies in the world, at around 16 per cent in 2010.
"This estimate is higher than previous projections thanks to the sharp rise in infrastructure projects and LNG exports," it said. "As for inflation, our estimates show the rate will be around one per cent this year."
Qatar, a small OPEC crude producer, said this month it had completed mammoth projects to pump nearly 77 million tonnes of liquefied natural gas to maintain its position as the world's dominant LNG supplier.
The country launched LNG ventures in early 1990s to tap the massive gas wealth of the 6,000-square-km offshore North Field, estimated at around 25 trillion cubic metres, nearly 15 per cent of the world's total gas deposits.
Besides lifting its economy, the expansion in LNG sales allied with exports of crude oil and related products to turn Qatar into one of the richest nations in terms of GDP per capita, which exceeded $70,000 in 2009.
Follow Emirates 24|7 on Google News.