Radio calls raise questions about school shooting response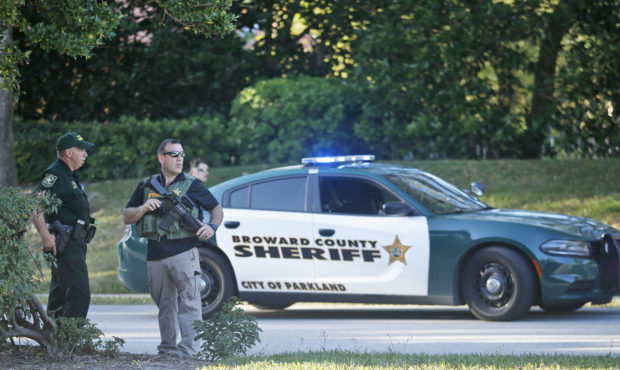 As deputies began responding to last month's deadly Florida school shooting, the school's armed resource officer radioed that shots were coming from the freshman building, but he advised officers to stay back — a seeming failure to follow widely established guidelines to immediately confront the attacker in active shooter situations.
Broward County Deputy Scot Peterson's radio calls in the minutes after the Feb. 14 shooting show he almost immediately realized gunshots were being fired inside Marjory Stoneman Douglas High School. That contradicts a statement issued Feb. 26 by his lawyer saying Peterson, who was assigned to the school, "believed that those gunshots were originating from outside any of the buildings on the school campus."
If Peterson knew the location of the shooter, Broward County Sheriff's Office mass shooting guidelines required him to enter the building and kill or stop the gunman. Such protocols are near-universal among U.S. law enforcement agencies.
Peterson, who has denied wrongdoing, retired soon after the shooting rather than accept a suspension. Broward Sheriff Scott Israel and President Donald Trump publicly criticized his actions and he is being investigated by internal affairs.
The radio transmissions, released late Thursday, also appear to contradict reports that a Broward captain ordered deputies not to enter the building. In fact, it was Peterson who advised officers to stay at least 500 feet away. It's not clear if anyone heeded his request, but it contradicts standard active shooter procedures in place since the 1999 massacre at Columbine High School, when officers remained outside while waiting for a SWAT team, which allowed the two shooters time to continue their rampage unchallenged.
Chris Grollnek, a former law enforcement officer who specializes in security issues — especially active shooter situations — said the timeline and radio transmissions show "what not to do" when confronting a mass shooter and indicate Peterson had inadequate training. Peterson's records show he passed an active shooter class in 2016.
Broward sheriff's Col. Jack Dale disputed Grollnek's conclusion, saying in a statement that the training Peterson and other deputies take includes live-fire simulations for both single deputy and multiple deputy situations. He said Grollnek "has the advantage of hindsight, the deputies did not."
"We are only beginning to understand how the situation unfolded. To attribute failures to training and leadership is far too premature," Dale wrote.
When suspect Nikolas Cruz began his six-minute shooting rampage with an AR-15 assault-style rifle, investigators say, Peterson was near the school's administration building, which is separated by a courtyard and classrooms from the freshman building. Responding to reports, he arrived outside the freshman building nearly two minutes later, issuing his first radio transmission: "Be advised we have possible, could be firecrackers, I think we have shots fired, possible shots fired — 1200 building." The 1200 building is also known as the freshman building.
Investigators say school surveillance video shows Peterson then took up a position near the freshman building — a spot he wouldn't leave until the shootings were over. He then called for backup and for the school and a nearby intersection to be shut down. He then reiterates, 38 seconds after his first call, "We're talking about the 1200 building." Two minutes later, "We also heard it's by, inside the 1200 building."
As backup deputies arrive, Peterson radios them, "Do not approach 12 or 1300 building. Stay at least 500 feet away at this point." By this time, investigators say, video shows that Cruz had abandoned his jammed weapon. The 19-year-old former Stoneman Douglas student then mixed in with the fleeing mass and left the school before being arrested a mile (1.6 kilometers) away more than an hour later. His attorneys have said he would plead guilty in return for a life sentence instead of the death penalty.
Peterson's attorney, Joseph DiRuzzo III, did not return an email and call seeking comment Friday.
The transmissions also show that Capt. Jan Jordan never radioed orders to deputies telling them to stay out of the building, as some media have reported. In her first transmission, 10 minutes after the shooting began, Jordan says, "I know there's a lot going on. Do we have a perimeter set up right now and everyone cleared out of the school?" She is told no. Almost two minutes later, she replied that a perimeter needed to be set up around the school, the students needed to be evacuated and the area around the school shut down.
Grollnek said there are only three reasons a perimeter should be set up: if a manhunt is underway and police are trying to prevent the shooter's escape; if police want to prevent the scene from being trampled so police dogs can get a good scent; or in a hostage situation, to prevent innocent bystanders from getting shot in crossfire.
In this case, he said: "The innocent bystanders were inside. There was not a good reason to set up a perimeter."
Follow Emirates 24|7 on Google News.