Rainfall hampers rescue for children stuck in Thai cave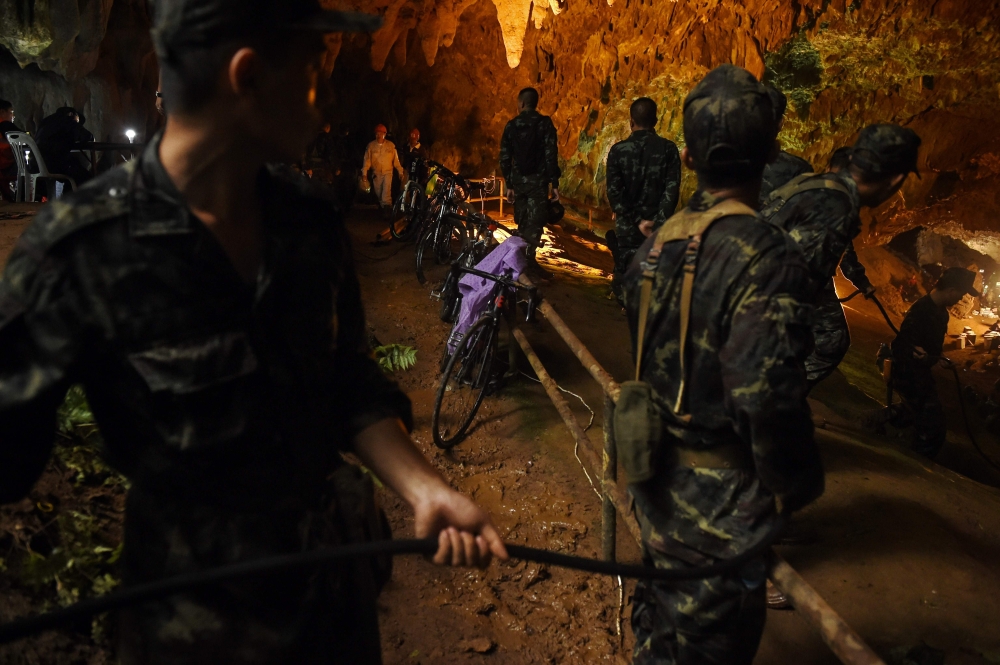 Rescuers struggled to drain a flooded cave in Thailand Wednesday where 12 children and their football coach have been trapped for days, as monks chanted prayers for the boys.
The young football team, aged between 11 and 16, have been stuck in the Tham Luang cave in northern Thailand since Saturday night after monsoon rains blocked the main entrance.
Hundreds of rescue workers worked overnight to install high-pressure water pumps to reduce flooding in the cave, but it was a losing battle as rains continued to fall in the area near the Laos and Myanmar borders in northern Chiang Rai province.
"Today's work is much harder, we are trying hard to drain water by pumping out but the water level is still rising," provincial governor Narongsak Osottanakorn told reporters.
Conditions in the cave also proved tough for the 200 rescuers dispatched into the tunnels to find the boys.
"The water inside the cave is very murky, and there's not much oxygen," Narongsak said.
The governor said three foreign cave-diving experts would arrive Wednesday evening to aid the harrowing search that pressed into its fifth day Wednesday.
Around 1,000 people had been mobilised for the rescue efforts, including air and ground teams and divers. The Army also dispatched special operation troops to aid the rescue.
Thailand's Navy SEAL unit said on their Facebook page that water levels rose 15 centimetres (six inches) overnight and that a third chamber of the complex cave network - believed to be several kilometres long - was now flooded.
Soldiers carried large hoses to attach to eight water pumps that were shipped in to drain rising flood waters.
Monks in bright orange robes led chants alongside distraught relatives who clung to hope the boys would be rescued soon.
"I hope that today with the help from all teams he will be saved. I'm certain in my heart," Pean Kamlue, the mother of a 16-year-old boy in the cave, told AFP.
'High hopes'
The dramatic rescue operations have captivated the country and prompted emotional outpourings on social media and from the country's top leaders and royal family members.
Officials found three new openings on Tuesday, but only one was accessible and they planned to shuttle rescuers and food in through the hole by air.
But heavy fog and strong winds grounded five helicopters that were on standby in the area.
The young football team, called the "Boars", and their 25-year-old coach are familiar to the area and know the cave well, officials said.
They went into the cave after football practice on Saturday and a mother of one of the players alerted authorities when her son did not come home.
Bicycles, shoes and backpacks belonging to the footballers were found near the cave's entrance, and divers said they discovered footprints and handprints inside one of the chambers on Monday.
A sign at the site's entrance warns visitors not to enter the cave during the rainy season from July to November.
Forecasters said light rains would continue to fall Wednesday, though downpours were not expected to be as heavy as they were overnight.
Thailand's Deputy Prime Minister Prawit Wongsuwan said Wednesday he was optimistic the boys would be saved soon.
"I have high hopes that we will find those 13 people because so many days have passed," he told reporters.
Desperate search for 12 children trapped in Thailand cave
Desperate parents led a prayer ceremony outside a flooded cave in northern Thailand where 12 children and their football coach have been trapped for days, as military rescue divers packing food rations resumed their search Tuesday.
Hundreds of people have been mobilised to find the youngsters who went into the Tham Luang cave on Saturday and were trapped when heavy rains flooded its main entrance.
Anxious relatives camped out to perform traditional rituals, making offerings and reciting emotional prayers for their children's safe return.
They have been inside the cave before," the father of one of the young footballers said.
Some relatives wailed at the cave's entrance near the Laos and Myanmar border, where huge crowds have gathered near stockpiles of water and food.
"My child, I'm here to get you now," one crying parent said, while another screamed: "Come home my child!".
The children, aged between 11 and 16, are thought to have retreated further into the tunnel as monsoon rains fell and flooded the cave, believed to be several kilometres (miles) long.
Rescuers found bicycles, football boots and backpacks at the entrance to the site Monday, and divers said they spotted footprints in one of the cave's chambers.
Park officials, police and soldiers were dispatched on foot, while an aerial team was also being mobilised to see if there was another entrance to the cave, according to an AFP photographer at the scene.
Navy divers equipped with oxygen tanks and food rations entered the cave early Tuesday in northern Chiang Rai province where rain continued to fall.
Rescue teams were also dispatched to light the inside of the cave and drain water from the site and an underwater robot was set to be dispatched to survey the area and help rescuers.
Interior Minister Anupong Paojinda said they were working around the clock to find the youngsters.
"We're working against time, but we're not panicking," he told reporters.
Forecasters said rains are expected to continue Tuesday, which could hamper rescue efforts.
Tham Luang cave is not hugely popular among foreign tourists because of its remote location but draws locals to worship at small Buddha statues inside.
Downpours routinely pound Thailand during the monsoon season from May to October, often causing flooding and landslides.
Fifteen people died in flooding in December that submerged large swathes of Thailand's south and hit hundreds of thousands of households.
This is not the first cave accident in the country.
Six foreign tourists and two Thai guides were killed in 2007 when they were swept away by flash floods in a cave in Khao Sok national park in southern Thailand.
The fiance of one of the tourists killed in the accident survived after clinging onto a ledge in the cave for 21 hours.
Follow Emirates 24|7 on Google News.