Red alert raised after ash bursts from Hawaii volcano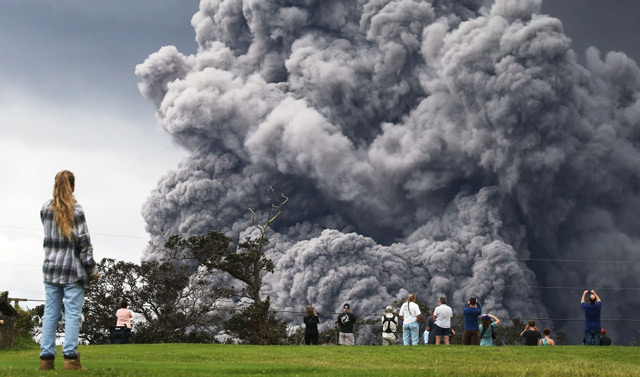 A massive plume of volcanic ash burst from Hawaii's Kilauea volcano on Tuesday, prompting authorities to issue warnings about air quality and the likelihood of a major eruption.
The Hawaiian County Civil Defense Agency said rock falls and gas explosions from one of the craters on Kilauea had caused the ash plume which was drifting downwind to the southwest.
Authorities said the ash cloud was as high as 10,000 to 12,000 feet (3,000 to 3,600 meters) and had prompted a code red aviation alert.
They warned that residents in the path of the cloud could experience respiratory problems and urged people to avoid exposure and to drive with caution.
The new burst of ash came as a new fissure opened on the Big Island, where the crater is located, bringing to 20 the total number of lava-oozing cracks caused by the volcano eruption on May 3.
The Civil Defense Agency said dangerous gas was issuing from fissures near the Lanipuna Gardens subdivision, which has been evacuated, and urged residents to stay away.
"Condition RED means immediate danger to health so take action to limit further exposure," the agency said in a statement. "Severe conditions may exist such as choking and inability to breathe.
"This is a serious situation that affects the entire exposed population."
So far, some 40 homes and other buildings have been destroyed by the lava that has been spewing from the volcano located on the southeastern part of Big Island.
Scientists say that as the lava level continues to drop in the crater, more fissures are likely to open in the ground and have warned of a major volcanic eruption.
Kilauea is one of the world's most active volcanos and one of five on the island.
Follow Emirates 24|7 on Google News.