18 dead, polling booths firebombed in Bangladesh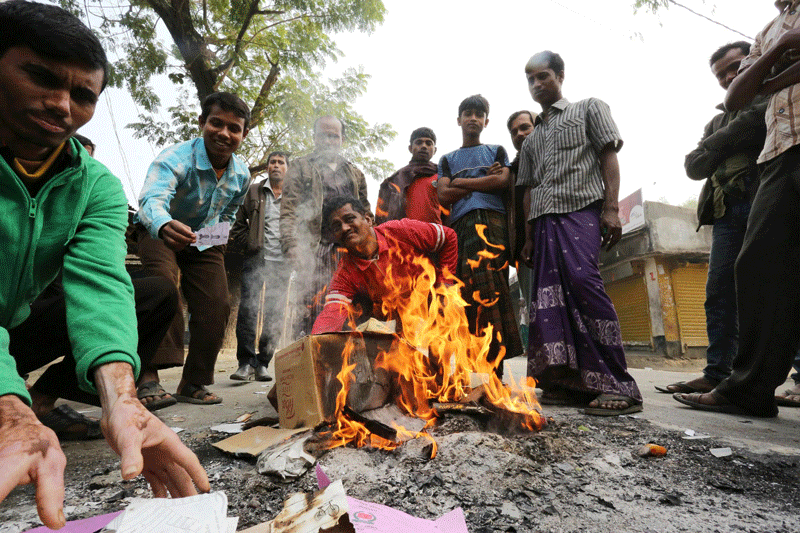 Thousands of protesters firebombed polling stations and at least 18 people were killed as Bangladesh's ruling Awami League cruised to victory on Sunday in an election boycotted by the opposition.

Police said they had opened fire at protesters as they torched more than 200 polling stations and stole and burnt ballot papers to try to sabotage the poll.

Two of those killed were beaten to death while guarding polling stations in northern districts but most of the victims were opposition supporters.

The result was not in doubt since 153 Awami League candidates or allies were declared elected unopposed to the 300-seat parliament before polling day.

The first 78 results for the remaining seats showed the Awami League winning in 59 constituencies while allied parties or independents mopped up in the other 19.

But the opposition Bangladesh Nationalist Party (BNP) said the contest was a farce and election commission officials admitted that turnout was low.

The biggest concern for the government was the violence which underlined the deep divisions in a country that only won its independence in 1971.

Police put the overall death toll at 18 although the opposition said 22 of its supporters were killed.

"We've seen thousands of protesters attack polling booths and our personnel at a number of locations with petrol bombs," Syed Abu Sayem, police chief of the northern district of Bogra, told AFP.

"The situation is extremely volatile," he added after describing how thousands of ballot papers had been ceremoniously set on fire.

Police in the town of Parbatipur said they had responded with live fire after thousands of protesters showered them with crude explosive devices.

"It was a coordinated attack. They managed to seize some ballot papers and they tried to steal our weapons," said local police chief Mokbul Hossain.

In the capital Dhaka, whose streets were largely deserted apart from thousands of troops, police confirmed three petrol bombings of polling stations.

Tens of thousands of troops were deployed across the country after around 150 people had been killed in the build-up to the election.

The Awami League has accused the BNP of orchestrating the violence and has kept its leader under de facto house arrest.

The opposition had demanded that Prime Minister Sheikh Hasina make way for a neutral caretaker government before the election to ensure no ballot-rigging, a system in force in the past.

It staged weeks of deadly protests, including transport blockades and calls for strikes, to press its demands.

A general strike called by the BNP, which began on Saturday, has now been extended until Wednesday morning as the party tries to ratchet up the pressure.

Although there was no immediate figure on turnout, officials acknowledged that it was poor.

"The turnout was low, partly due to the boycott by many parties," said election commission chief Kazi Rakibuddin Ahmad.

AFP correspondents said there were no queues to vote, while local television reported that only a single person voted in the first three hours at one station.

But Information Minister Hasanul Haq Inu told local television that "the turnout doesn't matter".

"What is important is that the people defied violence and came out to vote," he said.

Hasina's government says it had to hold the vote after parliament's five-year term expired.

'Laughable vote'But the BNP, whose leader Khaleda Zia has been confined to her home for a week, said the vote was a joke.

"The country has rejected these farcical elections which were meaningless, laughable and universally unacceptable," said deputy leader Fakhrul Islam Alamgir.

Those who did vote showed little enthusiasm.

"I don't really want to vote as I don't think it's a proper election with only the ruling party candidates participating," Anwar Hossain said outside a polling station in Dhaka's Azimpur neighbourhood.

"But I am scared about what might happen if I don't as the candidates might think I am anti-Awami League."

Analysts warn the election will likely stoke violence after the bloodiest year of unrest since Bangladesh broke free from Pakistan.

The former East Pakistan is the world's eighth most populous nation but also one of the poorest in Asia, and more turmoil will undermine efforts to improve the lot of its population of 154 million -- a third of whom live below the poverty line.

A local rights group says more than 500 people have been killed since January 2013, including victims of clashes that erupted after the conviction of Islamists for crimes dating back to the 1971 war.
The main Islamist party was banned by judges from taking part in the election, and its leaders are either in detention or in hiding.

Alarmed by the violence, Western nations declined to send observers to Sunday's election.

Bangladesh has been plagued by instability since independence, with nearly 20 coups since 1975.


Follow Emirates 24|7 on Google News.