7 police killed in Iraq compound siege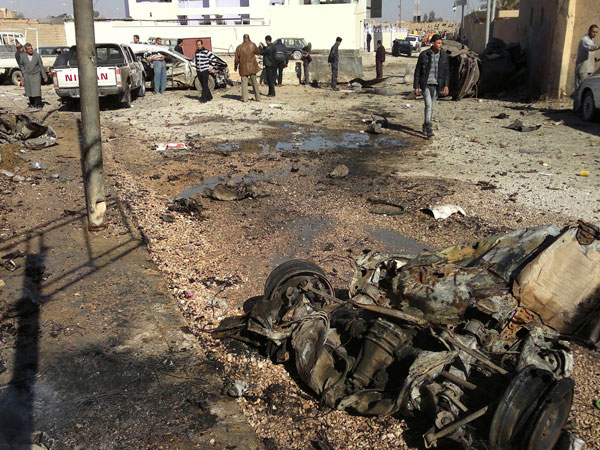 Several attacks and a police compound siege in west Iraq by suicide bombers dressed as police killed seven officers on Sunday, raising doubts about security forces' abilities after US troops left.
The coordinated blasts and shootings, apparently aimed at freeing detainees held for involvement in a massacre in September, come with the country mired in a festering political row, and deal a blow to US and Iraqi officials' assertion that local forces can maintain internal security.
Sunday's violence came a day after a suicide attacker killed 53 people on the outskirts of the southern city of Basra, the latest in a series of attacks that have killed nearly 200 in less than a month.
In Ramadi, two car bombs exploded at around 11:30 am (0830 GMT) near Dawlah Kabir Mosque in the city centre before a third car bomb went off in the same area.
A short time later, a fourth car bomb driven by a suicide attacker detonated near a police compound in Ramadi, followed quickly by two suicide bombers blowing themselves up at the gate, according to Anbar security command chief, Lieutenant General Abdulaziz Mohammed Jassim.
Six gunmen, all disguised in police uniforms and wearing explosives belts, then stormed the compound which houses the provincial anti-terror department, Ramadi's police department and other offices, before holing up in a building that was still under construction.
"The attackers controlled the roof of the building, and clashes started between police and the attackers," Jassim said at a news conference.
"After two hours, the police forces entered the building and all the suicide bombers detonated themselves."
Jassim said the compound houses a detention facility that was holding people accused of involvement in the September 2011 killing of 22 in Anbar, and added that it appeared the attackers were aiming to free them.
The assault on the compound left seven policemen dead and 16 wounded, while the initial three car bombs in central Ramadi wounded three civilians, according to a medic at Ramadi General Hospital.
Separate bombings in the refinery town of Baiji, the oil-rich city of Kirkuk, and the disputed town of Saadiyah, all north of Baghdad, left one person dead and 13 people wounded, including three police.
The Ramadi attack was reminiscent of a siege three months ago at a police station in the nearby town of Al-Baghdadi, also in Anbar province.
At the time, the local police chief and four others were killed when gunmen disguised in police uniforms set off explosions, clearing the way for them to overrun the building.
In June 2011, at least three explosions near provincial government offices in Ramadi killed 10 people and wounded 15 others.
And in January last year, a suicide bomber blew up an explosives-packed car carrying Anbar governor Qassim Mohammed Abid, but he was unhurt.
Provincial government offices were also targeted by attackers three times in 2010, and, on December 30, 2009, Abid lost his left hand in a suicide attack that killed 23 people and wounded 30.
US troops completed their withdrawal from Iraq on December 18, leaving behind a security force that officials said could maintain internal security but not protect the country's borders, air space or maritime territory.
Insurgents have since carried out multiple mass-casualty attacks.
On December 22, a wave of violence across Baghdad and restive Diyala province killed 67, while bombings in the capital and southern Iraq left 70 dead on January 5.
Saturday's suicide attack near Basra killed 53.
Follow Emirates 24|7 on Google News.