700 killed in Syria rebel-jihadist battle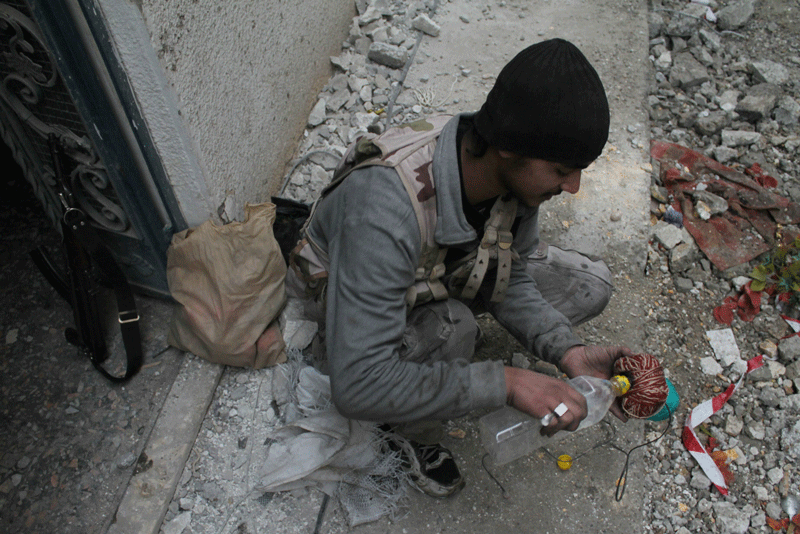 Fierce fighting between jihadists and rival rebel groups in Syria in the past nine days has killed at least 700 and led to the disappearance of hundreds more, an NGO said on Sunday.

Since early January, opposition groups have been battling the jihadist Islamic State of Iraq and the Levant, which is accused of abuses against other rebels, activists and civilians in areas where they operate.

"From January 3 to 11, the fighting killed 697 people, among them 351 rebel fighters, 246 members of the Islamic State of Iraq and the Levant and 100 civilians," said the Syrian Observatory for Human Rights, adding dozens more deaths have yet to be documented.

The Britain-based monitoring group, which relies on a network of activists across Syria for its reports, also said there were "hundreds of captives from both sides whose fate is unknown."

In a reflection of the brutality of the fighting, which has raged mainly in the northern provinces of Aleppo, Idlib and Raqa but has also hit Hama and Homs, at least 200 people were killed in one 48-hour period.

16 suicide attacks target Syria rebels in one week

Jihadists battling Syrian rebels have staged 16 suicide attacks in the past week, mostly car bombings, killing dozens of opposition fighters and civilians, the Syrian Observatory for Human Rights NGO said on Sunday.

The attacks took place during a nine-day battle pitting the jihadist Islamic State of Iraq and the Levant against other rebel groups.

An ISIL commander had warned rival opposition fighters earlier this week of car bomb attacks if they pressed their offensive against the jihadists.

"Sixteen suicide attackers have detonated themselves in the past week, most of them in car bomb attacks, some using explosive belts," Observatory director Rami Abdel Rahman said.

"Dozens of people in Aleppo, Idlib, Homs and Raqa provinces have been killed in such attacks," Abdel Rahman told AFP.

On Saturday alone, 39 rebels were killed in the attacks in Aleppo, Idlib and Raqa provinces, the Observatory said.

According to a rebel fighting with Ahrar al-Sham, which is leading battles against ISIL in several areas, "they use suicide attacks to terrorise society as a whole into submission, not just the fighters."

Speaking to AFP via the Internet on condition of anonymity, the rebel said "it is one of their most deadly weapons... which they use partly for a lack of other means."

Fighting between the two sides raged in parts of Raqa on Sunday after ISIL managed to seize much of the city, which is the only provincial capital to have fallen out of President Bashar Al Assad's control.

The eastern city of Raqa has been an ISIL stronghold for months and the group is believed to be holding hundreds of rebels from other groups, activists and journalists, including Westerners, in the province.

In Aleppo and Idlib, where most car bomb attacks have taken place, the jihadists were on the defensive on Sunday.

Hundreds of ISIL fighters were holed up in their base in Saraqeb in Idlib, a day after rebels captured most of the town.

In Aleppo province, Assad's army is trying to take advantage of fighting between ISIL and opposition groups and on Sunday, government aircraft dropped explosive-packed barrels on the towns of Al-Bab and Hreitan.

The Britain-based Observatory also said on Sunday rebels had launched a counter-offensive in the town of Naqarin, northeast of Aleppo, the day after activists said regime forces had taken the area.

Meanwhile in the battered central city of Homs, the toll from the army's shelling of Waar district on Saturday rose to 21, the monitoring group said.

On Saturday alone, 232 people were killed across Syria, most of them rebels, jihadists and regime loyalists.

Two people in Yarmuk camp in southern Damascus died as a result of malnutrition, the Observatory said. The group had reported on Friday that 41 Palestinians died in the besieged camp as a result of food and medical shortages.



Follow Emirates 24|7 on Google News.