77 dead in Iran Air plane crash: state media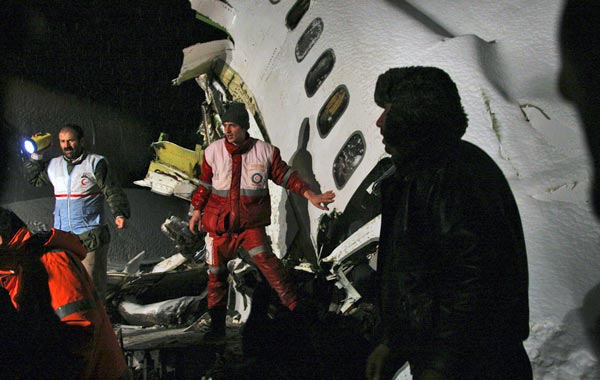 Rescuers were on Monday searching for at least one person missing after an Iran Air passenger jet crashed in bad weather in northwestern Iran killing 77 people and injuring 26, state media said.
"Unfortunately, 77 of our citizens were killed, 26 were injured who have been hospitalised and one person is reported to be missing," Iran's state television said Monday, citing a report from a police information centre.
"A rescue team is searching for the missing person," the report added.
The Boeing 727 airliner crashed near the city of Orumiyeh at around 7:45 pm (1615 GMT) on Sunday, an official in West Azerbaijan province said, quoted on state television's website.
Television footage of the crash showed the airliner broken into three pieces and buried in thick snow. Some corpses were shown covered in blankets laying on snow near the plane's debris.
Iran's ISNA news agency on Monday gave the same casualty figures as state television but said two passengers are missing.
"This flight had 105 persons on board, 94 passengers and 11 flight crew. Based on the latest figures due to last night's aviation accident 77 people were killed, 26 wounded and two person are missing," the head of crisis committee of Iran's road and transportation ministry Ahmad Majidi told ISNA.
"We do not know if the two missing are among the fuselage's debris, or in hospital, or dead. We will find out about them today," he added.
Majidi said it appeared that bad weather had played a role in the crash.
"Based on the evidence, the plane's captain could not land at Orumiyeh airport due to bad weather conditions and he decided to return (to Tehran)," he said.
"But for unknown reasons the plane crashed around five miles (eight kilometres) from the airport."
Iran Air spokesman Shahrokh Noushabadi on Sunday said, "We are examining the reason for the crash, but bad weather appears to be the main cause."
An official with the transport ministry told state television on Sunday that one of the aircraft's two black boxes had been recovered, and this would help determine the cause of the crash.
Iran, which has been under years of international sanctions, has suffered a number of aviation disasters over the past decade, several involving small companies using Russian crew or crews from former Soviet republics in Central Asia.
The country's civil and military fleet is made up of ancient aircraft in very poor condition because of their age and lack of maintenance.
In Iran's worst air accident, a plane carrying members of the elite Revolutionary Guards crashed in February 2003, killing 302 people on board.
In July 2009, a Soviet-designed Tupolev caught fire in mid-air and plunged flaming into farmland northeast of Tehran, killing all 168 people on board.
And in December 2005, a total of 108 people were killed when a Lockheed transport plane crashed into a high-rise housing block outside Tehran.
In November 2006, a military plane crashed on takeoff at Tehran's Mehrabad airport, killing all 39 people on board, including 30 members of the Revolutionary Guards.
Follow Emirates 24|7 on Google News.