A family's flight, paved by Syria's horrors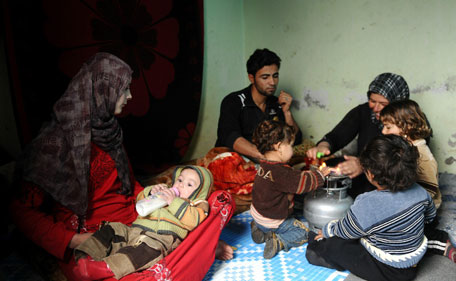 The Al Masri family, now reunited in exile this week by the horrors of Syria's war, have watched their country unravel with breathtaking brutality.

Abu Ali fled with his wife and four children in March 2012 after receiving word that regime loyalists had stabbed to death dozens of women and children in his neighbourhood in the central city of Homs.

The newest arrival is Abu Ammar, a rebel who fled the northern town of Al Bab this week after his brigade was routed in a battle with jihadists from the Islamic State of Iraq and the Levant (ISIL).

The Al Masris are among the estimated nine million people -- more than a third of Syria's population -- displaced by a war that has only grown more brutal and complicated, with internecine fighting having erupted in recent weeks among rebels seeking to overthrow President Bashar Al Assad.

As diplomats gather in Switzerland next week to seek peace, the Masris will struggle to make ends meet in their spare, crowded apartment in Kilis, a Turkish town near the border.

"We must return, but we won't as long as the regime exists," says Umm Ali, Abu Ali's wife, who like the rest of the family asked that her real name not be used because they still have relatives in Syria.

"After what we've seen, it's impossible."

A grisly massacre

Abu Ali remembers watching the protesters march down the main street of his neighbourhood in Homs, past the grocery store he owned with his brother.

He says he never took part in the peaceful demonstrations against the Assad family's 40-year rule, Arab Spring-inspired protests that began in March 2011 and were met with a brutal crackdown.

"They were killing people in hospitals," Abu Ali recalls.

"A protester would be shot in the leg and then taken to the hospital... When the family went to claim the body it would have another bullet wound in the head."

The worst was yet to come.

In March 2012, the feared pro-regime shabiha militia allegedly slaughtered two families in an attempt to cleanse Abu Ali's mostly Sunni Muslim neighbourhood.

The Assads are Alawites, an offshoot of Shiite Islam, while the rebels mainly hail from the Sunni Muslim majority.

An activist told AFP at the time that 47 women and children had been stabbed to death or had their throats slit, and that some of the women had been raped. It was not possible to independently confirm the reports.

Abu Ali's family fled that night with hastily packed suitcases and went to another area near Homs.

He said the few Sunnis who stayed behind were killed and dumped in the streets, where their remains rotted for months, no one daring to bury them.

As the civil war gathered steam the fighting around his new home became so severe he crossed the border into Lebanon. He soon had to leave again, for Turkey, because the rents were too high.

Now Abu Ali, who once owned his own business, shares a four-bedroom apartment with 16 people and makes around $10 (7.35 euros) a day working at a coffee shop.

The difference between his former life and the one he knows now, he says, "is the difference between heaven and earth."

A retreat under fire

As reports of regime massacres spread, Syrians who had hoped to bring down the government peacefully instead took up arms. As the war grew more bitterly sectarian, radical Islamist groups assumed a prominent role in the insurgency.

Abu Ammar, 29, fled Homs at the same time Abu Ali left, eventually making his way to the strategic northern town of Al-Bab, where he joined a moderate Islamist rebel group.

Two weeks ago his group joined with other powerful secular and Islamist rebels in battling Al-Qaeda-linked ISIL, accused of kidnapping, torturing and killing scores of activists and rival rebels.

In the first few days ISIL was driven back, but it has since regrouped and is now advancing in many parts of the north.

Earlier this week ISIL laid siege to Al-Bab and shelled it with artillery.

As Abu Ammar and his fellow fighters tried to repel the attack, Assad's warplanes dropped explosives-filled barrels on the town.

"You can't imagine how many people were wounded. So many people died," he said, his voice choking up.

"There was a fighter with me who died in my arms."

As his brigade retreated he, his wife and mother sped north, terrified they would run into a flying ISIL checkpoint.

"If they find someone they think is in the Free Syrian Army they kill him right away," he said.

Now he has moved into the house in Kilis, reunited with his relatives nearly two years after they all fled Homs.

The family hopes to return, but with rebels locked in a two-front war with Assad and ISIL, and diplomatic efforts largely stalled, no one knows if or when that day will come.

Abu Ali can only wonder at the modest beginnings of the uprising, less than three years ago.

"The first protests in Homs were against bribery and corruption," Abu Ali says.

"All they wanted was a new governor."
Follow Emirates 24|7 on Google News.