Abdullah bin Zayed visits Sidi Saiyyed Mosque, Ahmedabad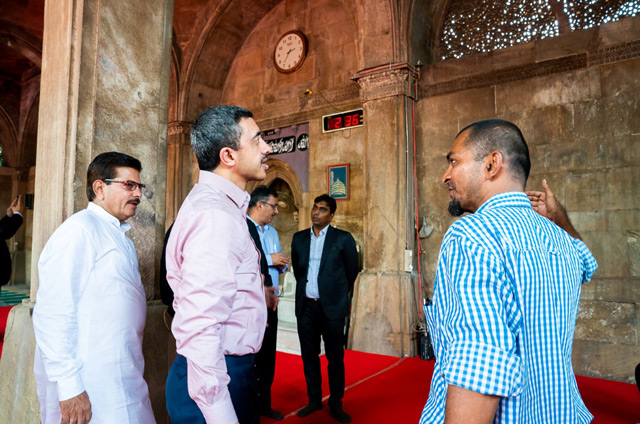 H.H. Sheikh Abdullah bin Zayed Al Nahyan, UAE Minister of Foreign Affairs and International Cooperation, has visited Sidi Saiyyed Mosque, popularly known as Sidi Saiyyid ni Jali locally. Built in 1572 AD, it one of the most famous mosques of Ahmedabad, Gujarat, India.
The visit came during his official visit to India.
Sheikh Abdullah toured the mosque which blends Islamic and Hindu architecture. The mosque is entirely arcuated and is famous for beautifully carved ten stone latticework windows (jalis) on the side and rear arches.
Sheikh Abdullah hailed the signature architectural design and feats of Sidi Saiyyed Mosque.
He also expressed his happiness at visiting this landmark in Ahmedabad, which attracts millions of visitors annually.
Sheikh Abdullah was accompanied by Dr. Ahmed Abdul Rahman Al-Banna, UAE Ambassador to India.
Follow Emirates 24|7 on Google News.