After mosque attacks, NZealand banning 'military-style' guns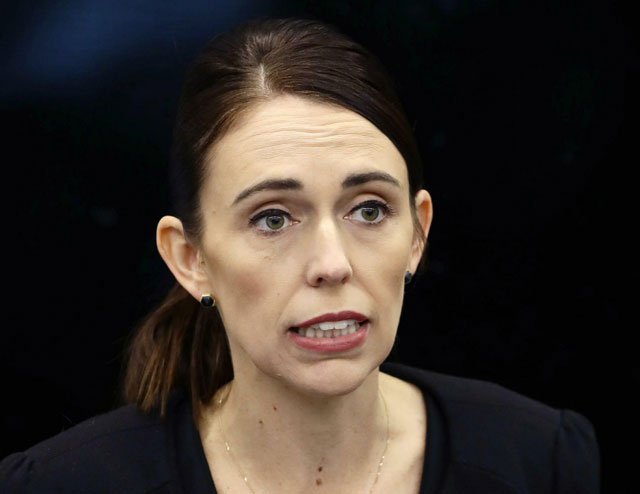 Prime Minister Jacinda Ardern announced an immediate ban Thursday on sales of "military-style" semi-automatic and automatic weapons like the ones used in the attacks on two mosques in Christchurch that killed 50 worshippers.
The man charged in the attack had purchased his weapons legally using a standard firearms license and enhanced their capacity by using 30-round magazines "done easily through a simple online purchase," she said.
"Every semi-automatic weapon used in the terrorist attack on Friday will be banned," she said.
Ardern's announcement comes less than a week after the killings, as all 50 bodies were formally identified and families were burying their buried. At least six funerals took place Thursday, including for a teenager, a youth soccer coach and a Muslim convert who loved connecting with other women at the mosque.
One of New Zealand's largest gun retailers, Hunting & Fishing New Zealand, said it supports "any government measure to permanently ban such weapons."
"While we have sold them in the past to a small number of customers, last week's events have forced a reconsideration that has led us to believe such weapons of war have no place in our business — or our country," CEO Darren Jacobs said in a statement.
The first funerals for some of the 50 victims of last week's shootings at two mosques in New Zealand have begun.
Christchurch authorities spent four days constructing a special grave at a city cemetery that is designated for the Muslim burials.
Regardless of the ban, the company would no longer stock any assault-style firearms of any category and would also stop selling firearms online, he said.
Although the exact weapons used in the mosque attacks have not been made public, images of them posted by the gunman show at least one of them to be a semi-automatic rifle similar to an AR-15 that is widely available in New Zealand.
Police Commissioner Mike Bush said all 50 victims had been identified as of Thursday and their families were being notified. Investigators also were trying to conclude their work at the two mosques.
"We are working to restore them in a way that is absolutely respectful," he said.
Meanwhile, preparations were underway for a massive Friday prayer service to be led by the imam of one of the two New Zealand mosques where worshippers were killed.
Follow Emirates 24|7 on Google News.