Ahmadinejad meets Morsi in landmark visit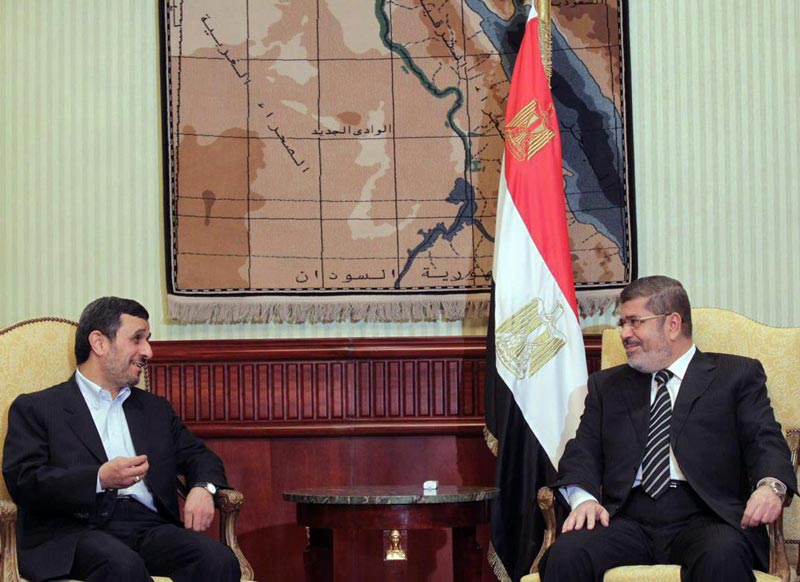 Iranian President Mahmoud Ahmadinejad discussed the Syrian conflict with Egyptian counterpart Mohamed Morsi on Tuesday, in the first visit by an Iranian leader to Egypt in decades amid thawing relations.

Morsi, an Islamist who fiercely opposes Ahmadinejad's Syrian regime allies, met the Iranian leader in Cairo airport after his arrival for the Organisation of Islamic Cooperation summit, footage on state television showed.

The two leaders discussed "ways to resolve the crisis and end Syrian bloodshed, without military intervention" and "ways to strengthen relations" between their countries, the official Egyptian MENA news agency reported.

Morsi's government has shed some of the suspicion Cairo traditionally held towards Iran.

Egyptian Foreign Minister Mohammed Kamel Amr said improved relations with Iran would not come at the expense of Gulf states.

"Egypt's relations with any country will not be made at the expense of other countries' security," he told reporters. "We consider the security of Gulf states in particular a red line."

Egypt and Iran severed full diplomatic relations after Iran's 1979 Islamic Revolution, which opposed Egypt's peace deal with Israel. No Iranian leader had visited Egypt since.

Ahmadinejad, who is on a three-day visit, will attend an Organisation of Islamic Cooperation summit in Cairo which opens on Wednesday, Iranian media said ahead of the trip.

After meeting Morsi, Ahmadinejad went to see Ahmed Al Tayyeb, head of the Al Azhar institute. Tayyeb called for Muslim unity in a statement on Tuesday, before the meeting.

Before leaving Tehran, Ahmadinejad told reporters that during his visit he would work towards strengthening bilateral ties with Cairo.

"I will try to pave the ground for developing cooperation between Iran and Egypt," Ahmadinejad was quoted as saying by Iran's official IRNA news agency.

Without elaborating, he said the visit would "definitely influence the bilateral ties" between Tehran and Cairo.

Egypt has responded cautiously to Iranian efforts to revive ties since Morsi took power in June, with the two nations adopting opposing positions on the Syrian conflict.

Iran supports the regime of Syrian President Bashar Al Assad, while Egypt has been a leading voice urging his departure -- along with Saudi Arabia, Turkey and Qatar.

"If Tehran and Cairo see more eye to eye on regional and international issues, many (issues) will change," IRNA quoted Ahmadinejad as saying.

Tehran is committed to the survival of Assad and his regime. It has supplied financial aid and admitted to sending Revolutionary Guards military advisers to Damascus.

But Egypt, despite its opposition to Assad, has tried to include Iran in regional diplomacy on ending the conflict, which has killed an estimated 60,000 people.


Follow Emirates 24|7 on Google News.