Al Jazeera under fire over 'Palestine Papers'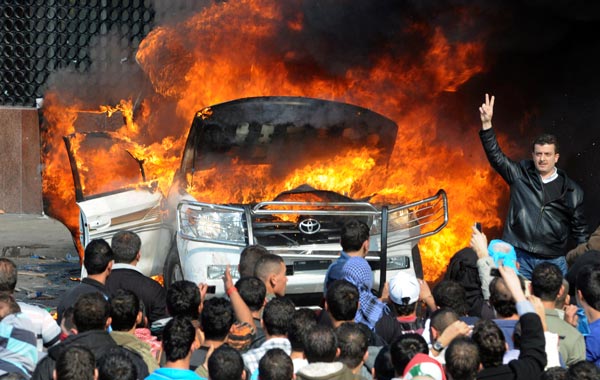 A senior Palestinian on Tuesday accused Al-Jazeera of plotting against the Ramallah government as president Mahmud Abbas tried to play down the channel's damaging revelations.
In a sharply-worded rebuke, chief negotiator Saeb Erakat charged that the Qatar-based satellite channel was participating in a campaign to discredit and overthrow the Palestinian Authority.
Speaking to AFP, Erakat accused Al Jazeera of trying provoke the Palestinian people into "a revolution against their leaders in order to bring down the Palestinian political system."
His accusations were made two days after Al-Jazeera began releasing more than 1,600 documents known as "The Palestine Papers" which have exposed some of the far-reaching concessions offered to Israel during 10 years of closed-door peace talks.
The revelations have deeply embarrassed and angered the Palestinian leadership, but Abbas on Tuesday tried to play down the impact of the revelations, dismissing the leaks as nothing but a "boring soap opera."
Arriving back at his Ramallah headquarters from Jordan, Abbas was greeted by hundreds of supporters, who were also demonstrating against Al Jazeera and the Qatari authorities.
Some burned pictures of the Qatari emir, Sheikh Hamad bin Khalifa al-Thani, while others torched Israeli flags with the Al Jazeera logo printed on them.
"This is a boring soap opera," Abbas told the crowd. "We know how to respond to it and how to deal with it.
"We have nothing to hide and there isn't a single document there that we didn't tell the Arab nations about, on an individual and collective basis," Abbas insisted.
"The Palestinian constants... have not changed and will not change, and the first among these constants is Jerusalem," he said, referring to the Arab eastern sector of the city which the Palestinians want as capital of their future state.
But in Hamas-ruled Gaza, several thousand demonstrators responded to a call from the Islamist movement to protest against the concessions offered by the "cowardly" Palestinian negotiators it said had acted as "collaborators of America".
The territory's Hamas authorities issued a statement saying that the Palestine Liberation Organisation, which is chaired by Abbas and of which Hamas is not a member, had "no right to negotiate in the name of the Palestinian people nor to give up any of its rights."
Erakat launched a bitter attack on Al Jazeera, accusing it of participating in a US-Israeli "campaign" to "overthrow the Palestinian Authority because it is refusing to engage in negotiations while settlement activity continues and because it insists on going to the (UN) Security Council."
Labelling the leaks "despicable incitement," Erakat accused the channel of "implementing a plan on behalf of (Israeli Prime Minister) Benjamin Netanyahu and (Foreign Minister Avigdor) Lieberman," aimed at sabotaging Palestinian attempts to secure their promised state through diplomatic offensives.
"We are at a stage of unprecedented resistance and we're being made to pay the price for this," he said, as the Palestinians pursue plans to seek a UN Security Council resolution against Israeli settlement activity.
Erakat, who appears frequently in the leaked files, accused Al Jazeera of being "selective" about the documents it revealed and said the Palestinian leadership was pursuing an inquiry into how the documents were obtained.
Contacted by AFP, Al Jazeera said it did not wish to comment.
Erakat's remarks came a day after senior Abbas aide Yasser Abed Rabbo accused the Qatari leader of being behind the leaks.
He charged that Sheikh Hamad had given the "green light" for a "campaign" against the Palestinian Authority.
Follow Emirates 24|7 on Google News.