Alwaleed sells A380 flying palace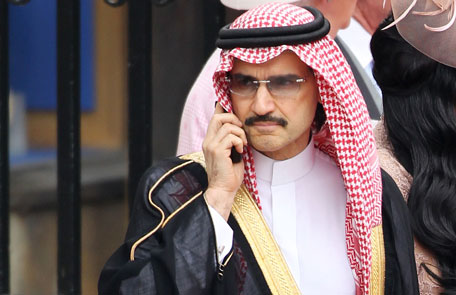 Saudi billionaire Prince Alwaleed bin Talal, ranked #29 on the list of global billionaires by Forbes magazine, has sold off his 'off-plan' Airbus A380, according to media reports.

Prince Alwaleed, whose net worth in March 2012 was estimated at $18 billion by Forbes magazine, ordered the A380 way back in 2007, and had ordered multi-million-dollar customisations to it, which made the media dub his aircraft as 'the flying palace'.

According to unconfirmed reports, among the customisations that Saudi Arabia's richest businessman had ordered included a parking spot for his Rolls-Royce, five suites with king-sized beds and en-suite bathrooms with showers, first-class 'sleepers' for an additional 20 guests, a steam room for spa treatments and a marble-finished Turkish bath, a boardroom with holographic displays, a prayer area in which computer-generated mats move to point towards Mecca, a 'concert hall' with a baby grand piano and seating for 10, and a spiral staircase connecting all three floors.

When the prince ordered it in 2007, the list price for an A380 was $389 million. However, those in the know maintain that the prince's aircraft-palace, with its lavish customisations, is expected to have cost more than $500 million.

Prince Alwaleed was expected to take possession of the aircraft in January 2013, but Bloomberg newswire is now reporting that, according to Shadi Sanbar, the chief financial officer of the billionaire's Kingdom Holdings Co., the billionaire sold off his Airbus A380 jet in the past four months, before taking possession.

Sanbar maintains in his comments to Bloomberg that the 57-year-old prince used the proceeds from the sale to expand his investments in Saudi Arabia and the greater Middle East. Sanbar did not disclose the buyer or the sale price, citing "strict confidentiality" agreements.
Follow Emirates 24|7 on Google News.