Anger in Lebanon as Mikati named PM-designate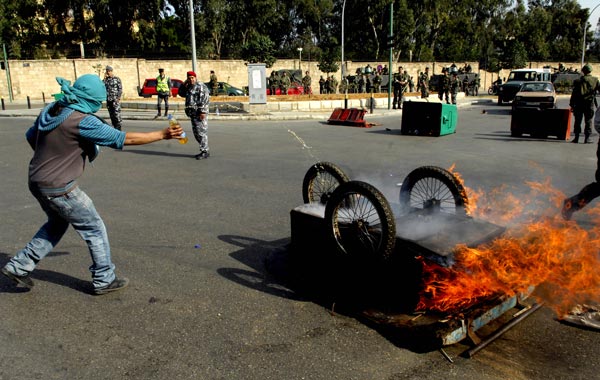 Hezbollah-backed Najib Mikati was named Lebanon's prime minister-designate on Tuesday, giving the Shiite militant group increased leverage in the deeply divided country to the anger of many Sunnis.
President Michel Sleiman asked the billionaire Sunni tycoon to form a government amid a "day of rage" by fellow Sunnis who blocked roads and burned tyres in anger at his nomination, prompting France and the United States to voice concern.
Mikati shortly after his appointment rejected attempts to cast him as "Hezbollah's man" and said he would cooperate with all Lebanese in a bid to form an inclusive government.
"Don't prejudge me or my behaviour, please, especially the international community," the 55-year-old billionaire businessman told AFP in an interview at his Beirut home where well-wishers gathered to congratulate him.
"I say in all honesty that my nomination by Hezbollah does not mean I am bound by any of their political positions, except as concerns the protection of the national resistance," he said, referring to the Shiite militant group's struggle against neighbouring Israel.
Mikati, who is close to Syria and is considered a moderate, earlier told reporters that he would reach out to all parties in forming his government.
"I will cooperate fully with all Lebanese to form a new government that protects their unity and sovereignty," he said.
"My hand is extended to all Lebanese."
Hezbollah leader Hassan Nasrallah echoed the point in a speech transmitted via video link to thousands of supporters in the eastern town of Baalbeck.
"The new government will not be a Hezbollah government nor will it be led by Hezbollah ... We don't want power," he said.
Protests had turned violent in the northern Sunni bastion of Tripoli, where frenzied demonstrators torched an Al-Jazeera van and ransacked offices of a local Sunni lawmaker who backed Mikati.
Demonstrators also blocked roads in several other areas, including the capital Beirut, the southern coastal city of Sidon and the eastern Bekaa region.
There were no immediate reports of any casualties, a security official told AFP.
Mikati's appointment has angered Sunnis who see it as a bid by the Iran- and Syria-backed Hezbollah to sideline outgoing premier Saad Hariri and impose its will in Lebanon.
According to Lebanon's power-sharing system, the country's prime minister must be a Sunni.
"I am a Sunni Muslim and I refuse to allow anyone to impose their candidate for premiership on our community," said Um Khodr, 50, who was among thousands of demonstrators in Tripoli.
"We will remain in the streets until the traitor Mikati leaves the post."
The protests died down by early evening. French schools in Beirut and Tripoli announced they would shut down on Wednesday for security reasons.
An army spokesman told AFP that troops would react firmly to any further attempts to block roads.
Hezbollah and its allies brought down the government of the Western-backed Hariri on January 12 after a long-running standoff over a UN-backed probe into the 2005 assassination of ex-premier Rafiq Hariri, Saad's father.
The militant group has said it believes some of its members will be indicted by the Netherlands-based Special Tribunal for Lebanon, which it has denounced as part of a US-Israeli conspiracy.
Mikati told AFP that he would seek to address the thorny issue through dialogue.
"Stopping the tribunal today is no longer a Lebanese decision," he said, adding that Lebanon's cooperation with the tribunal was another question altogether.
He did not elaborate.
The United States, which continues to blacklist Hezbollah as a terrorist organisation, warned that a Hezbollah-controlled government would affect bilateral ties.
"A Hezbollah-controlled government would clearly have an impact on our bilateral relationship," US Secretary of State Hillary Clinton told reporters.
She said Washington was following "closely and carefully" developments in Beirut and harboured "deep concerns about the influence of outside forces."
Mikati, however, struck a reassuring note, saying Lebanon "cannot have but very good relations" with the United States.
"I hope they will maintain their support for Lebanon," he said. "My actions will speak for themselves."
Former colonial power France expressed "concern for the stability" of Lebanon and called for Mikati to form a government without outside "interference."
European Union foreign policy chief Catherine Ashton called on Mikati to seek the "broadest possible consensus" in forming his government.
Follow Emirates 24|7 on Google News.