'Assad open to bigger Arab mission'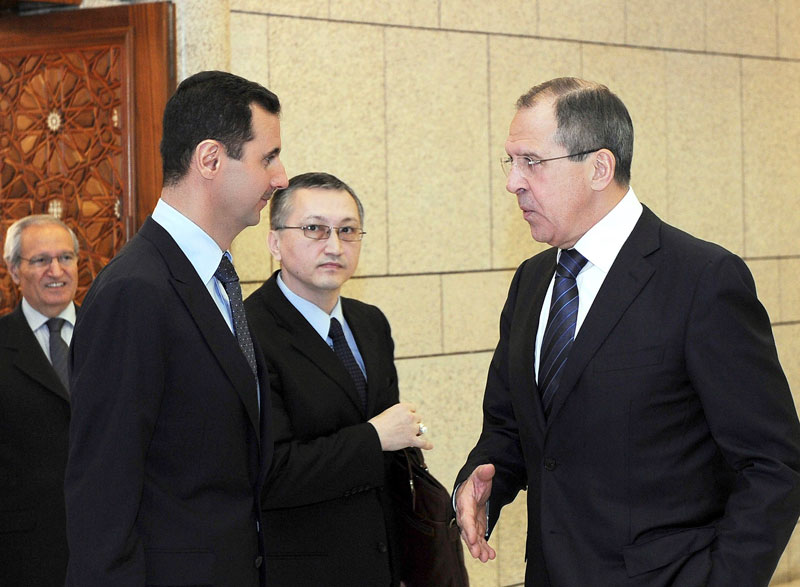 Syrian President Bashar Al Assad is ready to accept an expanded Arab League mission in his violence-torn country and schedule a constitutional referendum, Russian news agencies quoted Russian Foreign Minister Sergei Lavrov as saying on Tuesday.
After talks in Damascus, Lavrov also said Assad had assured him he was "completely committed" to seeking an end to violence by all sides, 11 months into a revolt against his rule, and was ready to seek dialogue with all political groups.
"The president of Syria assured us he was completely committed to the task of stopping violence regardless of where it may come from," Interfax quoted Lavrov as saying after what he called "very useful meetings with the leadership" of Syria.
Opposition activists have dismissed similar pledges made by Assad in the past because he continued trying to eliminate unrest with tanks and troops and branded his adversaries "terrorists" and "armed gangs".
Russia, one of Syria's last remaining allies, and China on Saturday vetoed an Western- and Arab-drafted resolution in the U.N. Security Council that supported an Arab League call for Assad to step down.
Moscow said the draft would have put too little pressure on armed opponents of the government, which Moscow says must share responsibility for nearly a year of bloodshed that has killed thousands of people.
On the referendum, Lavrov said: "President Assad informed (me) that he will meet in the coming days with the commission that prepared a draft of the new constitution," state-run Russian news agency Itar-Tass reported.
"The work is finished, and now a date will be announced for a referendum on this important document for Syria."
Lavrov said that "Syria is informing the Arab League it is interested in the League's mission continuing its work and being increased in terms of quantity," Interfax reported.
"Russia is convinced of the need to preserve and expand (the mission), which is a serious stabilising factor in Syria," he said.
There are now only about 110 monitors in the sprawling country of 23 million, following the departure last month of Gulf Arabs from the mission in despair at continued bloodletting despite their presence.
Lavrov also affirmed Russia's "readiness to help foster the swiftest exit from the crisis on the basis of positions set out in the Arab League initiative", Interfax reported.
Russia has supported an Arab League peace proposal for Syria floated last November, but there was no indication from Lavrov's quoted remarks that Russia had come around to specifically backing the League's call on Assad to leave office.

Follow Emirates 24|7 on Google News.