Assad won't stop Syria's 'terrible suffering'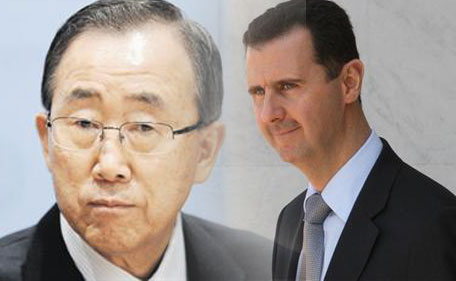 UN leader Ban Ki-moon said Monday that President Bashar Al Assad's speech setting out his terms for peace would not help end "the terrible suffering" of the Syrian people.

"The secretary-general was disappointed that the speech by President Bashar Al Assad on January 6 does not contribute to a solution that could end the terrible suffering of the Syrian people," said UN spokesman Martin Nesirky.

Ban and UN-Arab League envoy Lakhdar Brahimi are seeking a "political transition that includes the establishment of a transitional government and the holding of free and fair elections under the auspices of the United Nations," Nesirky added.

After the latest Assad rebuff to his peace efforts, Brahimi will hold talks Wednesday with Iran's Foreign Minister Ali Akbar Salehi, whose country has been the only backer of Assad's address to the nation.

Assad called for dialogue with opposition elements he deems acceptable, while vowing to stand fast against opponents he branded as foreign-backed "terrorists." The speech has been widely condemned, with the United States calling it "detached from reality."

"What the Syrian people desperately need at this time are real solutions to the crisis that is tearing their nation apart," Ban said through his spokesman.

The UN leader criticized Assad for having "rejected the most important element" of a June 30 roadmap agreed by the main powers in Geneva that called for a political transition with the establishment of a transitional governing body.

"The United Nations remains committed to do its utmost, in cooperation with other partners, to alleviate the suffering of the Syrian people inside and outside Syria," the spokesman said.

"The United Nations will also continue to help the people of Syria fulfill their legitimate aspirations for peace, dignity, freedom, justice and democracy in a united and sovereign Syria."

Ban reaffirmed that there could not be a military solution to the 22-month-old war and added that it was "critically urgent" for the international community to help the Syrian people build a "new and democratic Syria."

The UN leader has several times shown exasperation at the UN Security Council's failure to agree on a position on Syria. Russia and China have vetoed three Western-proposed resolutions that would have threatened sanctions against Assad.

Brahimi is expected to brief the UN Security Council this month, the UN spokesman said. He is also trying to organize new talks with US and Russian envoys in a bid to overcome differences on Syria.

The UN envoy was due to hold talks in Cairo on Monday with the prime minister and foreign minister of Qatar ahead of his meeting with Iran's foreign minister Wednesday. The UN had originally said the meeting with Salehi was on Tuesday.

The spokesman said he was unaware of any plan by Brahimi to return to Damascus.
Follow Emirates 24|7 on Google News.