Be fair to people, even against your son: Saudi king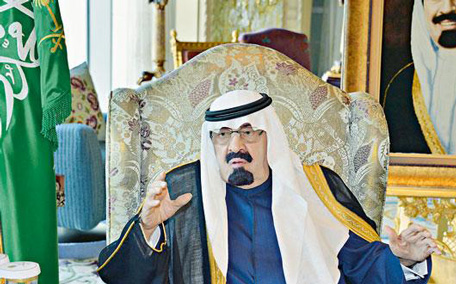 King Abdullah of Saudi Arabia, addressing royal members on new appointments, told them to be fair to the Saudi people even if this means going against their own sons.
The 89-year-old monarch said he considered the Saudi people as "the most important thing" and that they must always be treated fairly.
"I do not need to remind you to serve your people and nation," he said, addressing Prince Mugren bin Abdul Aziz during an oath-taking ceremony at his palace in Riyadh, after was appointed deputy prime minister this week.
Prince Faisal bin Abdul Aziz was also named Emir of the western province of Medinah.
"People are the most important thing to us. Make sure that your people remain satisfied by treating them with fairness, right and justice even if this will be against your son or brother. The first thing must be God's law," the King said in a brief address, carried by the official Saudi press agency.
"Satisfying all the people is difficult but right is right and justice is justice. Serving your religion, nation and people is an honour and glory for you."
Follow Emirates 24|7 on Google News.