Clashes in Tunisia as new cabinet sworn in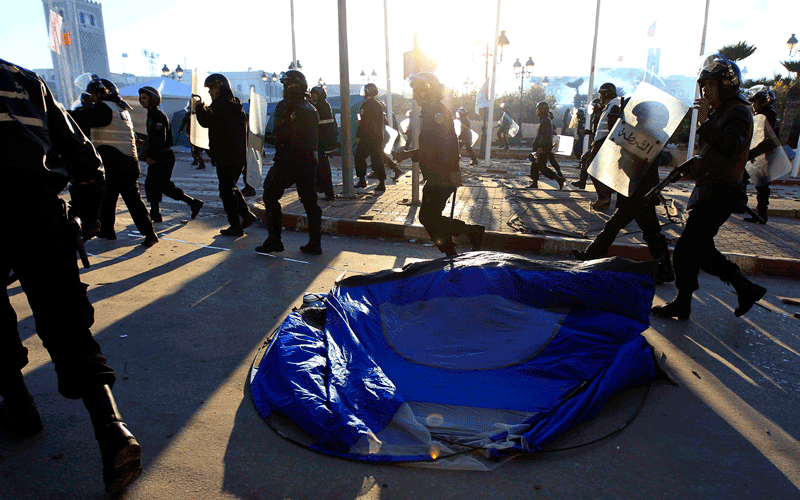 Riot police and hundreds of protestors clashed in the Tunisian capital on Friday, as a new cabinet was sworn into office in a bid to end the unrest that has followed president Zine El Abidine Ben Ali's ouster.
Security forces fired warning shots and tear gas, as some groups threw stones in the main government quarter where protesters have remained camped out in front of Prime Minister Mohammed Ghannouchi's offices for five days.
Some 15 protestors were injured in the clashes, according to a doctor who treated some of the casualties and a spokesman for some of the demonstrators.
Protestors had demanded a clean break with the old regime, calling for Ghannouchi himself to step down.
The premier has been in office since 1999 and has stayed on despite the end of Ben Ali's 23-year iron-fisted rule on January 14.
Ben Ali fled in disgrace to Saudi Arabia amid a wave of social protests. The ripples of Tunisia's revolution have been felt across the Arab World, having helped inspire the deadly protests against Egypt's veteran ruler Hosni Mubarak that have raged this week across the country.
The US-monitoring group Site said Al Qaeda had hailed Tunisia's revolt in a message saying: "Your revolution was no ordinary uprising, rather it was a devastating earthquake that struck the throne of the tyrant Ben Ali."
Hundreds of protestors had arrived in Tunis on Sunday from impoverished regions in central Tunisia where the anti-Ben Ali movement began last month.
Security forces moved in on Friday to shut down the protest camp as activists and lawyers were trying to persuade the protestors to pack up and go home. Bulldozerswere brought in to remove tents and mattresses from the area.
Running street battles continued into the evening in the city centre. Oualid Aloui, a spokesman for the demonstrators, confirmed that 15 people had been hurt.
Tunis had earlier returned to its normal bustle for the first time since Ben Ali's downfall, but cafes quickly cleared and shops were shut down.
The government has struggled to restore order in recent days, keeping in place a curfew and a state of emergency and deploying the army in city centres.
At the same time it has unveiled major democratic freedoms, lifting media controls, releasing political prisoners and legalising opposition parties.
The cabinet has also issued international arrest warrants for Ben Ali and six members of his family and Interpol has issued a global alert.
Canada denied a report Friday that it had agreed to arrest Ben Ali's billionaire brother-in-law, Belhassen Trabelsi - one of the most hated figures in Tunisia.
Comments by Foreign Affairs Minister Lawrence Cannon to Radio Canada had been misinterpreted, said a foreign ministry official: he had been talking about moves to seize the billionaire's assets.
Canada and Tunisia do not have an extradition treaty, the ministry official added. Tunisia's new cabinet line-up culled key figures associated with Ben Ali's ousted regime including the defence, finance, foreign and interior ministers.
Ghannouchi has promised to hold democratic elections within six months. The reshuffle was received positively by the influential UGTT trade union - which played a vital role in the anti-Ben Ali movement and had led opposition to the interim government, with the union saying it approved of Ghannouchi.
EU officials said the new foreign minister, Ahmed Abderraouf Ounais, a Paris- educated career diplomat, was set to visit Brussels on Tuesday.
A statement from European Union chief diplomat Catherine Ashton congratulatd Ounais on his appointment.
She stressed the EU's "solidarity with the Tunisian people in their efforts to build a stable and pluralistic democracy with full respect for the rule of law and fundamental rights and freedoms."
The EU said it would send experts next week to help prepare elections. France, which has come under fire for backing Ben Ali and failing to support protests against him early on, said it wished the new government "success".

Follow Emirates 24|7 on Google News.