Costly food to keep Saudi inflation high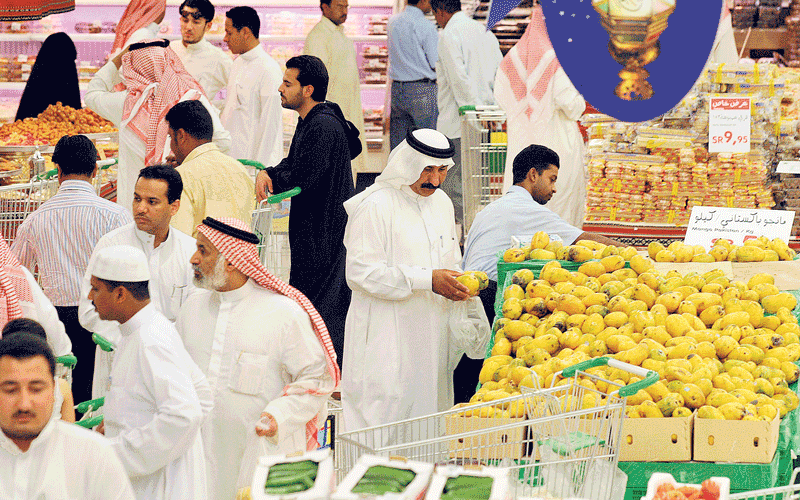 A slight decline in food prices depressed the inflation rate in Saudi Arabia to a nine-month low in January but an expected rise in those prices will keep the rate relatively high through 2011, a key investment company in the Gulf kingdom has said.
Year-on-year inflation in January slipped to around 5.3 per cent from 5.4 per cent in December, the Riyadh-based Jadwa Investment said in a brief study sent to Emirates 24|7 on Saturday.
It said the rate in January, as cited by the government, was the lowest since April 2010 and marks the fifth consecutive month inflation in the world's dominant oil power has eased.
"In year-on-year terms, inflation declined across most components of the cost of living index," the study said.
"The most notable fall was in food price inflation, which dropped from 7.6 per cent to 6.8 per cent. Although global food prices have risen so far this year, large falls in the prices of some key food stuffs were recorded in the kingdom last month. Given the continued rise in international food prices, it is likely that food price inflation in Saudi Arabia will remain high."
The report showed inflation in the rental sector, another key component in Saudi Arabia's consumer price index, maintained its downward trend, dropping to 8.3 per cent, its lowest level since July 2007, from 8.5 per cent in December. "As monthly rental inflation tends to pick-up in the first half of the year, as was the case in January, the year-on-year rate of change will probably not fall much further in the coming months."
It showed year-on-year inflation for the other components of the cost of living index was fairly stable. The only rises were for clothing, owing to higher international cotton prices, and medical care, which hit its highest level since March 2009, according to Jadwa.
"Outside of rents, there remains very little domestic price pressure in the economy. For 2011, international commodity prices are likely to be the main source of inflation."
Jadwa forecast annual inflation in Saudi Arabia, the largest Arab economy, would average about 5.3 per cent in 2011, equivalent to the 2010 rate but slightly higher than the 5.1 per cent in 2009.
Inflation in Saudi Arabia climbed to one of its highest rates of nearly 9.9 per cent in 2008 due to a surge in food prices and rents, strong domestic demand, and the weakening in the US dollar, to which the national currency, riyal, is pegged. The other Gulf oil exporters reeled under record high inflation rates before they were pushed down by the 2008 global financial crisis.
At 5.3 per cent, inflation in Saudi Arabia is considered high given the minimal low rates of around 0.8 per cent recorded during a period of nearly 15 years after 1990.
"Price pressures are likely to ease slightly this year due to comparatively lower rental inflation, although food price inflation could remain elevated due to global price pressures. Inflation this year remains historically high for a country that experienced average inflation of 0.8 per cent between 1990 and 2006," Banque Saudi Fransi said in a study last week.
Follow Emirates 24|7 on Google News.