'Day of rage' to go ahead in Yemen: Opposition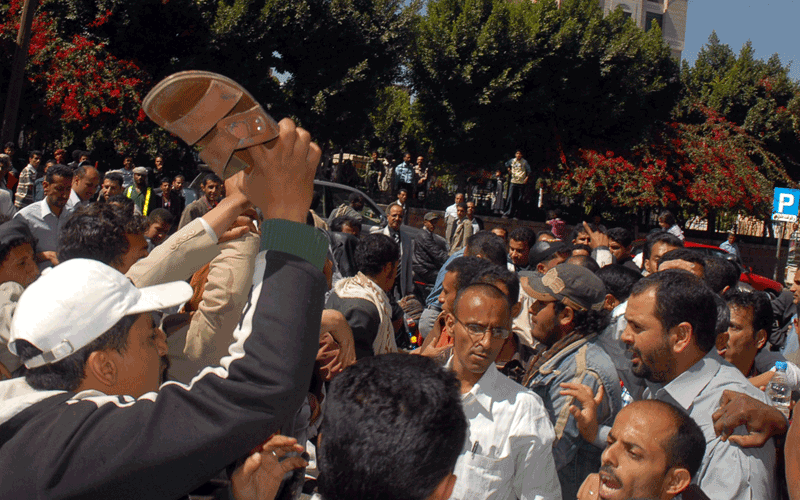 Opposition leaders in Yemen vowed on Wednesday to go ahead with anti-government protests on Thursday -- billed as a "day of rage" -- despite a pledge by President Ali Abdullah Saleh not to extend his rule.
"Thursday's demonstration will continue as scheduled," said Mohammed Kahtan, a member of the Islamist Al-Islah (Reform) party in the Yemeni consultative council.
Mohammed al-Sabri, a leader in the Common Forum, a parliamentary opposition alliance, added: "We will look into the president's speech, although his announcements came late."
But Sabri added that Saleh's call "to halt demonstrations is unacceptable," as he too confirmed that the opposition would go ahead with a nationwide "day of rage".
Saleh, head of state since 1978, appealed earlier Wednesday for a halt to protests demanding his resignation, as he announced that he would freeze constitutional changes that would have enabled him to be president for life.
Until last weekend, demonstrations had been taken place on a nearly daily basis in the capital Sanaa, echoing anti-government protests in Egypt and Tunisia.
In central Sanaa on Wednesday, dozens of armed men from Saleh's General People's Congress were seen setting up tents in Al-Tahreer square and carrying portraits of the president.
Yemeni president postpones elections
Yemeni President Ali Abdullah Saleh, facing protests demanding his resignation, on Wednesday announced a postponement of legislative elections due in April.
Earlier in the day he said that he will not seek to extend his presidency in a move that would bring an end to a three-decade rule when his current term expires in 2013.
Eyeing protests that brought down Tunisia's leader and threaten to topple Egypt's president, Saleh also vowed not to pass on the reins of government to his son.
"No extension, no inheritance, no resetting the clock," Saleh said, speaking ahead of a planned large rally due on Thursday in Sanaa that has been dubbed a "day of rage".

Follow Emirates 24|7 on Google News.