Deaths mount in Syria as Russia veto UN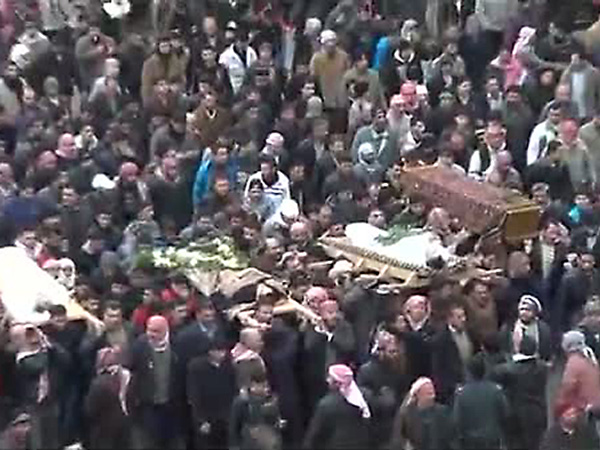 Fresh bloodshed swept Syria as the West and Arab League kept up their push for quick UN action to stop the regime's "killing machine," but holdout Russia vowed to veto any "unacceptable" proposal.
Wrangling at the United Nations on Wednesday came as fierce clashes across Syria killed 59 people, mostly civilians, the Syrian Observatory for Human Rights said.
In New York, Britain's envoy said some progress had been made in talks to persuade Russia to back a tough UN Security Council resolution condemning the violence.
"We have made some progress today," Britain's UN ambassador Mark Lyall Grant told reporters after a three-hour meeting of council members.
Russia's envoy Vitaly Churkin said: "We have a much better understanding of what needs to be done to reach a consensus ... I think it was a pretty good session."
US Secretary of State Hillary Clinton said Security Council members had to decide whether to side with the Syrian people or a "brutal dictatorial regime".
"Every member of the council has to make a decision: Whose side are you on?" she told reporters in response to a question about Russian opposition to an Arab- and Western-backed resolution condemning President Bashar al-Assad.
Earlier on Wednesday, Russian Deputy Foreign Minister Gennady Gatilov appeared to snuff out hopes of a quick vote.
"Attempts are being made to find a text that is acceptable to all sides and would help find a political solution for the situation in Syria. Therefore there is going to be no vote in the next days," he told Interfax news agency.
But French Foreign Minister Alain Juppe said in Paris that Russia had a "less negative" attitude towards the resolution and said a vote could take place "perhaps" next week.
"For the first time, the attitude of Russia and the BRICS (China, India and South Africa on the Security Council) is less negative," Juppe told MPs.
The draft resolution, introduced by Morocco, calls for the formation of a unity government leading to "transparent and free elections."
It stresses that there will be no foreign military intervention in Syria as there was in Libya, which helped to topple Moamer Kadhafi.
A new draft was expected to be prepared following Wednesday's talks and submitted to Council members Thursday for new discussions, diplomats said.
In Rabat, Foreign Minister Youssef Amrani said that Morocco, the only Arab country currently on the Security Council, was "committed with all our partners to achieving a consensus on this resolution."
On Tuesday, Qatari Prime Minister Sheikh Hamad bin Jassim Al-Thani told the Council that "bloodshed continued" as the Assad regime cracked down on its opponents and that the "killing machine is still at work."
Russia, a long-standing Assad ally and one of his top arms suppliers, has declared that the UN body does not have the authority to impose a resolution that calls for regime change in Syria, a position supported by China.
"If the text is unacceptable then we will vote against," Churkin was quoted as saying by the RIA Novosti news agency.
Russia would not approve a text it viewed as "incorrect" and that would "lead to a deepening of the conflict," he said.
The Britain-based Observatory said Wednesday's heaviest toll was in Damascus province, where 24 civilians were killed.
Fifteen soldiers were reported killed in the central city of Homs and six army deserters in Damascus.
There were also reports of fierce fighting between the army and dissidents in Damascus, Homs and Idlib provinces.
Al-Watan newspaper listed dozens of deaths in clashes in Homs and elsewhere in central Syria over the past two days.
It said 37 rebels were killed in the Homs district, four soldiers in Bab Dreib and 15 rebels and two members of the security forces in clashes in Rastan, another central town.
Against that background, the rebel Free Syrian Army's Turkey-based commander Colonel Riyadh al-Asaad told AFP that half the country was now effectively a no-go zone for the security forces.
Activists said the unrest had killed nearly 200 people over the previous three days, while France said 6,000 people have lost their lives since the beginning of the uprising nearly 11 months ago.
The French figure comes after UN human rights chief Navi Pillay said last week that her organisation had stopped counting the dead because it is too difficult to get information.
In January, UN data showed more than 5,400 people killed in Syria since the uprising began in mid-March.
Analysts warn that the conflict, between a guerrilla movement backed by growing numbers of army deserters and a regime increasingly bent on repression, has largely eclipsed the peaceful protests seen at the start of the uprising.
The Syrian opposition, meanwhile, called for two days of demonstrations across the country from Thursday to mark the 30th anniversary of the 1982 Hama massacre.
The regime of Hafez al-Assad, the late father of the current president, crushed an Islamist revolt in the central city that year, killing tens of thousands of civilians.
Follow Emirates 24|7 on Google News.