Defiant Mubarak stays put, meets cabinet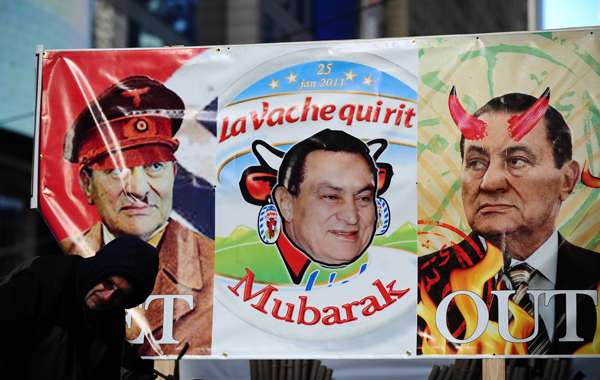 Egypt's defiant strongman Hosni Mubarak showed no sign of quitting Saturday, the 12th straight day of Cairo protests demanding he end his 30-year grip on power, as international calls grew for him to go.

State news agency Mena said the embattled leader held talks with members of his newly-appointed cabinet but gave no further details.

In Sinai, a gas pipeline supplying Israel was attacked, although it was not immediately clear who was responsible, or whether the attack was linked to the protests against Mubarak's rule. https://www.emirates247.com/news/world/saboteurs-attack-egypt-israel-gas-pipeline-2011-02-05-1.351833

The ageing leader has shown no intention of stepping down immediately, despite huge demonstrations on the Muslim day of prayer Friday on Cairo's Tahrir Square -- the epicentre of the protests -- and in Alexandria.

Early on Saturday, gunfire crackled on the square where thousands spent a chilly night encircled by tanks.
Protesters sat on the ground around some of the tanks to prevent the troops pulling out and leaving the square vulnerable to the feared interior ministry riot police or militants loyal to Mubarak's ruling National Democratic Party.

US President Barack Obama, meanwhile, hinted that the veteran leader should step down saying the "patriot" should "listen to what is being voiced by the Egyptian people."

Obama said he understood "some discussions" had begun on a political transition, with details to be worked out by Egyptians themselves, and said violence against demonstrators was unacceptable.

Ferocious clashes between Mubarak loyalists and the protesters on Wednesday and Thursday left at least eight people dead and more than 800 hurt.

According to UN estimates, more than 300 people have been killed since the protests began. "We continue to be crystal clear that we oppose violence as a response to this crisis," Obama said, as Egyptian authorities called for protesters thronging central Cairo to go home but said they would not force them out.
Transition must start now - EU

European leaders were more forthright. At a summit in Brussels, the 27 EU governments said Egypt's "transition process must start now" and condemned this week's violence, while issuing a veiled threat to suspend aid.

Mubarak has said he would like to quit but fears that chaos would ensue.
Arab League chief Amr Mussa, Mubarak's one-time foreign minister and a possible future presidential candidate, said on Friday he doubted his former boss would leave any time soon.

Mubarak has said he will not stand in elections scheduled for September, but protesters have insisted he must step down now.
"I do not think he will leave. I think he will stay until the end of August," Mussa told France's Europe 1 radio.

The New York Times reported that Washington has been pushing proposals for Omar Suleiman, Mubarak's veteran intelligence chief and now vice president, to head a transitional government. But Prime Minister Ahmed Shafiq has ruled out the possibility that Mubarak would transfer power to Suleiman.

On the Muslim day of prayers and rest on Friday, tens of thousands of people from all walks of life filled Tahrir Square for what was billed as a mass rally for the president's "day of departure."

A pro-government rally in the upscale Mohandeseen neighbourhood of the capital was attended by just dozens of people.

Mubarak and his government should sit down with a broad coalition of opposition and civil society groups shut out of power in Egypt to discuss a new political compact, White House spokesman Robert Gibbs said. "There are concrete actions that he can take, and the vice president can take, towards moving in the path of real change that can lessen instability and can ensure that we don't descend into the chaos that he describes," Gibbs said.

Defence Minister Mohammed Hussein Tantawi -- regarded by Washington as a key plank of any post-Mubarak administration -- visited Tahrir Square to appeal to demonstrators to end their protest in the light of Mubarak's pledge not to seek re-election in September.
He urged opposition leaders, including the supreme guide of the powerful Muslim Brotherhood, Mohammed Badie, to join talks with the government on a political transition.

The prime minister reiterated late on Friday that the anti-regime protesters would not be removed by force, while Finance Minister Samir Radwan apologised to anyone who had been subject to "harsh treatment."

"I would apologise to any journalist or any foreigner, or any Egyptian for that matter, that has been subjected to this harsh treatment," Radwan told CNN after dozens of journalists and human rights activists were beaten or detained.

"I inquired and I was told that there is zero tolerance, zero tolerance of this government on attacks against foreigners, let alone journalists whom we need to have them on our side, to watch this situation unfold and convey a much better image to the outside world," he said.

Radwan acknowledged the protesters had "fair demands." "They are talking about jobs. They are talking about corruption. They are talking about, you know, the freedom and so on... Now the fact that there are other political agendas that interfered with the situation, and unfortunately on Wednesday the situation turned a bit nasty."

Egyptian journalist Ahmed Mohammed Mahmud died on Friday of gunshot wounds sustained during clashes between Mubarak supporters and anti-government protesters, the state-owned Al Ahram daily said. It said he had been shot by sniper fire while taking pictures from his flat near Tahrir Square.
Follow Emirates 24|7 on Google News.