Expat's dead body found half-buried in Kuwait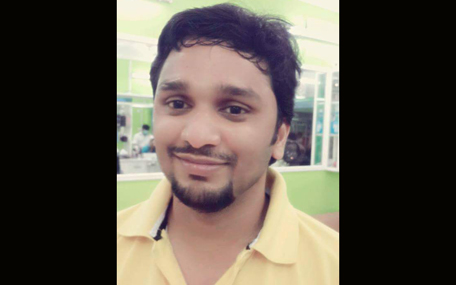 The dead body of a young Indian engineer has been found partially buried under a pile of sand at a construction site in the Surra desert area of Kuwait.

The Keralite was missing from Tuesday night after he went out for dinner at a restaurant in the Abu Khalifa area of Kuwait.

The body Ramees Abdul Salam, 29, son of Abdul Salam, President of Merchants Association, Perambra, Kerala, was found by Asian construction workers half-buried in a desert area, 40 km away from his accommodation.

What was initially thought to be a murder case is now suspected to be suicide.

Some Indian newspapers and TV channels had reported that Ramees was found murdered in the desert with his hands exposed. Kuwait police's investigation found that he had died from a vein cut, so it could be a case of suicide.

A Kuwait Police investigation team headed by Major General Mahmood Al Thabbaq questioned many of his friends in Kuwait and found out that the deceased was suffering from depression about his marriage to a woman from Mahe, Kerala.

Ismael Payyoli, Indian social worker and journalist in Kuwait, told Emirates 24|7: "Initial reports suggested that Ramees could have been murdered. However, Kuwait Police investigation found that the engineer had committed suicide by slashing the vein of his left hand and died in an area far from where heavy trucks were loading sand for transportation to another construction site. Kuwait Police report said he could have slashed his vein while sitting on a pile of sand and died of bleeding.
The post mortem report too said death was caused by bleeding."

"Without knowing that the dead body was lying there in the sand, the truck driver loaded the sand, along with the dead body, and unloaded the sand in the Surra construction site, where the body was spotted by some construction workers. The workers saw two hands protruding out from the sand, that's why every one thought the body was buried there," Payyoli said.

Kuwait Police identified the dead body using his finger prints.

It is learnt that the deceased man was depressed about his marriage which took place about a year ago. It appears there was some dispute about the marriage as his family did not endorse his alliance from a poor family, according to close friends of the deceased. Ramees came to Kuwait only a month ago and was living with another Indian family in Abu Khalifa area of Kuwait. The dead man was reportedly taking medication for depression.

Some reports in the Arabic media said the dead body was found naked but Kuwait Police's photographs showed the dead body wearing jeans.

Indian social worker Thomas Mathew Kadavil, former President of Kuwait Art Lovers Association (Kala), told Emirates 24|7: "Initial reports said it was a case of murder because the body was found buried in sand. However, we have learnt that he had some family problems."

He added that many suicides are triggered by economic causes but the deceased engineer hailed from a well off family.

Follow Emirates 24|7 on Google News.