French planes pound militant camps in Mali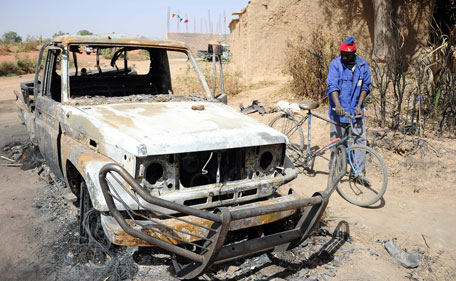 French warplanes pounded rebel camps in the far north of Mali on Sunday, military sources said, a day after French President Francois Hollande was hailed as a saviour during a visit to the West African country.

Thierry Burkhard, spokesman for the French army in Paris, said the overnight raids targeted logistics bases and training camps used by the Al Qaeda-linked rebels near the town of Tessalit, close to the Algerian border.

"These were important air strikes," Burkhard told Reuters.

Tessalit, some 200 km (125 miles) north of the regional capital Kidal, is one of the main gateways into the Adrar des Ifoghas mountains where the rebels have sought refuge after fleeing major towns.

France says the rebels are also holding hostage in these mountains seven of its citizens, seized in recent years in the Sahara region.

Malian military sources said French and Chadian troops had clashed with members of the Ansar Dine militant group in the region around Kidal on Saturday.

French attack helicopters and transport planes carrying special forces left the city of Gao to reinforce the French and Chadian contingent stationed at the airport in Kidal.

The town of Kidal itself is under the control of the pro-autonomy MNLA Tuareg rebel group, which occupied it after Ansar Dine fighters fled six days ago.

France has deployed 3,500 ground troops, fighter jets and armoured vehicles in the three-week-old Operation Serval (Wildcat) which has broken the Islamists' 10-month grip on the towns of northern Mali, where they violently imposed sharia law.

"Never has a foreign intervention in Africa been as popular as the French one in Mali," the president of neighbouring Niger, Mahamadou Issoufou, told Radio France International on Sunday, asking France to maintain its military presence.

"The object of this war should be not just to liberate Mali but to free the whole Sahel from this menace, which threatens not just us but also Europe, France and the world."

Malians Mob Hollande

Cheering, grateful Malians mobbed Hollande during his one-day visit to Mali on Saturday, when he congratulated French forces and pledged that they would finish the job of restoring government control in the Sahel region state.

Thousands of residents in the capital shouted "Thank you France!" as Hollande addressed the crowd. "Hollande Our Saviour" read one banner.

"There are risks of terrorism, so we have not finished our mission yet," Hollande told a news conference at the French ambassador's residence in the capital Bamako.

He said France would withdraw its troops from Mali once the West African country had restored sovereignty over all its national territory and a U.N.-backed African military force, which is being deployed, could take over from the French.

"We do not foresee staying indefinitely," he said, but he spelled out no specific timeframe for the French mission.

The United States and the European Union are backing the Mali intervention to counter the threat of Islamist jihadists using the Sahara as a launch pad for attacks.

They are providing training, logistical and intelligence support, but have ruled out sending their own ground troops.

US Vice President Joe Biden said in an interview published on the website of French daily Le Figaro that his country would support efforts to ensure Mali's long-term stability and the establishment of an elected government.

"It's important that we cooperate to help participating countries set up the African-led International Support Mission to Mali," said Biden, who meets Hollande in Paris on Monday.

The United States has contributed air transport and logistics support to armed forces arriving in Bamako.

Malian Foreign Minister Tieman Coulibaly welcomed the success of France's military operation and added his voice to those urging the former colonial power not to scale back its mission.

"Faced with hardened fighters whose arsenals must be destroyed, we want this mission to continue. Especially as the aerial dimension is very important," he told France's Journal Du Dimanche newspaper.

Paris has pressed Bamako to open negotiations with the MNLA, whose uprising last year triggered a military coup in Bamako in March, as a step toward political reunification of north and south Mali.

The MNLA seized north Mali in April, before being pushed aside by a better-armed Islamist alliance composed of al Qaeda's north African wing AQIM, splinter group MUJWA and Ansar Dine.

Coulibaly played down the possibility of direct talks with the MNLA but said it was clear that there needed to be a greater devolution of power from the mainly black African south to northern Mali, an underdeveloped region home to many lighter-skinned Tuaregs and Arabs.

He called for northern armed groups to lay down their weapons before peace negotiations could begin and said Mali would press ahead with national elections scheduled for July 31.



Follow Emirates 24|7 on Google News.