Gadhafi says he is of Saudi origin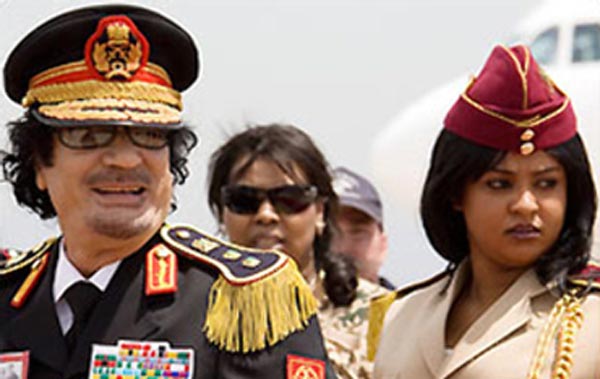 Libyan leader Muammar Gadhafi says he had originated from Saudi Arabia and that his ancestors had been forced to leave the Arabian Peninsula to escape death in a vendetta saga, according to a Saudi newspaper.
Tribe leaders from the central Saudi province of Najd visited the Libyan leader last week and were told about his ancestors who had lived in that province, Arar News online Arabic language daily reported.
The tribal chiefs went to Libya to meet its leader at the request of Kuwaiti Emir Sheikh Sabah Salim Al Sahab, who disclosed to them that Gadhafi's ancestors had lived in Najd and that his distant cousins belong to Anza tribe.
The seven chiefs from the Dahamisha and Anza tribes met Gadhafi and told him they were asked by the Kuwaiti Emir to come to Libya and talk about the relationship between him and those tribes in Saudi Arabia and Kuwait.
"The Libyan leader told them that his ancestors belonged to the Dahamisha and Anza tribes but they left the Peninsula to escape revenge…he said nearly 20 families of his ancestors left Najd to Egypt before heading for Tunisia and finally settling in Libya," the paper said, quoting a tribal chief, Mohammed Al Qahs.
"The Libyan leader confirmed to them what the Kuwaiti Emir had told them about his relationship to those tribes who now live in Saudi Arabia and Kuwait…he made clear tribal vendetta at that time forced his ancestors to emigrate."
The paper said Gadhafi gave the tribal chiefs a "VIP reception" and asked them about his "cousins" in Saudi Arabia and Kuwait, adding that he also told his guests that they are welcome to visit Libya "their second home" at any time.
"Gadhafi is related to our tribe because his ancestors belonged to Dahamisha and Anza," said Talal Al Qahs, a tribe chieftain in Kuwait.
"The Libyan leader sent us a message with a special envoy in 1992 saying he wanted to know us better and to bolster the brotherly relationship between us…we, his cousins, are proud of the Libyan leader."
Follow Emirates 24|7 on Google News.