GCC competitors win in Fazza falconry contests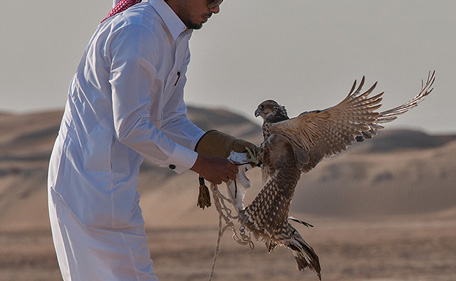 Falconers from Qatar and Saudi Arabia have starred during the GCC finals, as part of the ongoing Fazza Championships that are being organised by the Hamdan Bin Mohammed Heritage Centre.

Competitors from Saudi Arabia won the Pure HorrJinas and Pure HorrFarkh categories and the powerful Qatari Labrtha Team is home with three trophies after a highly successful few days after their first entry into the competition.

Winning falconers were presented with trophies and prizes immediately after the results were announced at the Championship grounds at Ruwayyah in the presence of Abdullah Hamdan bin Dalmook, CEO of the Hamdan Bin Mohammed Heritage Centre, Souad Darwish, director- manager of the overall Fazza Championships, head of the Fazza Championship for Falconry Committee and other organisers and competition participants.

Souad Darwish, Championship Director, said: "We would like to thank our GCC winners for their fabulous input and quality of competition and for providing the biggest ever number of competitors from the region. We would like to thank Sheikh Hamdan for reviving this culture and national sport which brought people together from the region."

Dumaithan Bin Swaidan added: "I would like to congratulate everyone who has won and thank them for their enthusiastic participation in very successful championships. I would also like to thank our team for their excellent work in providing the highest quality services to everyone who has taken part."

Khalid Fahad Al Qurainy from Saudi Arabia was the successful first place winner place in the Pure HorrJirnas category. He said: "I am so happy to get first place this year as in the past I have been very close coming second and third in previous events.

"I did not expect to win this year so it is pleasant surprise and I have been really pleased with how well organised the Championships have been. I would also like to thank Sheikh Hamdan for his commitment in supporting the growth and development of traditional Arabian sports"

It was the first time that Qatar entered a team into the Championships and their entry proved very successful. Saif Al Mohannady, head of Technology of the Qatari Labrtha Team explained: "We managed to win first, second and third places in different categories and we are going home with three cups which is a real achievement for us in our first ever competition here at the Fazza Championships"

The Hamdan Bin Mohammed Centre for Heritage has been established under the patronage of Sheikh Hamdan bin Mohammad bin Rashid Al Maktoum, Dubai Crown Prince, to help revive and preserve traditional Emirati culture. Encouraging young Emiratis to embrace and participate in traditional activities and to introduce these activities to a wider audience including local expatriates and visitors to Dubai.
Follow Emirates 24|7 on Google News.