Gold smugglers innovate to get past customs at Indian airports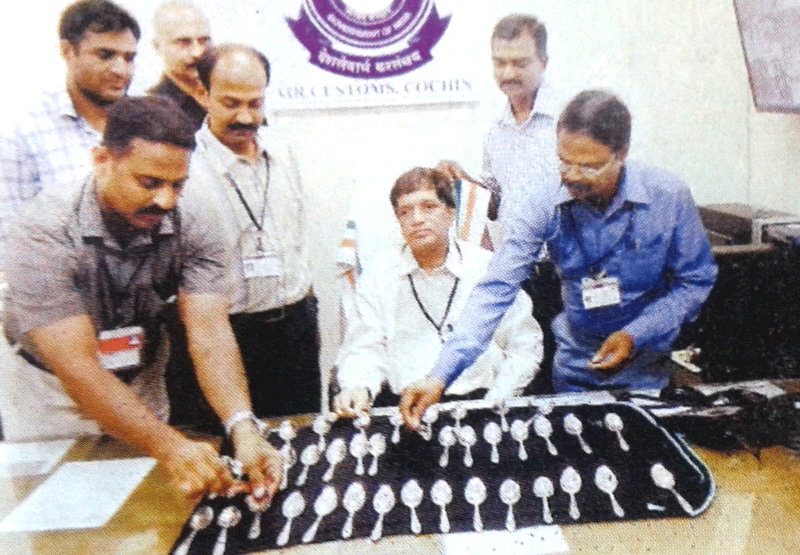 Smugglers based in the Gulf are resorting to innovative ways to take gold into India, as recent arrests at various Indian airports show.

Arriving from a Gulf city, Ismail P, hailing from Kozhikode in north Kerala, was caught on Sunday at Kochi Airport with 40 silver-coated gold spoons weighing 3.172kg worth 10 million Indian rupees.

Customs officials are inquiring about the final destination of the gold and the person who was waiting near the airport to receive the smuggled gold.

Two women arriving at Kochi from a Gulf city were recently nabbed with as much as 20kg of gold hidden under their 'abayas'.

After the recent crackdown at Kerala airports, smugglers seem to have shifted their operations to other airports outside the state like Bengaluru, Mangalore, Hyderabad, Ahmedabad and Trichy.

In the second week of February, two men who landed at Ahmedabad airport in different airlines were found carrying 1.8kg of gold.

One of the two men carried gold in the form of gold dust, concealed in an emergency light and in a food processor. The second person carried gold wire coated with aluminum.

Indians returning from Malaysia have been caught with gold biscuits at Trichy airport.

One passenger hailing from Kasargodu was travelling with nearly half a kilo of gold that he tried to conceal inside brassieres.

It is believed that the travellers are only gold carriers working for smugglers in return for free return air ticket to the Gulf or Malaysia and some money.

Last week, passengers of a private airline flying on the India-Gulf route was deplaned at Mangalore airport for a thorough search of the aircraft after India's Department of Revenue Intelligence received a tip off about gold coming in the plane. The airline was ordered to bring the aircraft for further checking the next day. It is suspected that smugglers sometimes conceal gold in aircraft coming from the Gulf. The smuggled gold is taken out after the plane flies onward on a domestic route.

Gold smuggling from the Gulf to India picked up after New Delhi hike import duty on the precious metal recently.

A security officer stationed just before the immigration counter at Kerala's Karippur Airport was arrested last week after he was found helping smugglers to take gold out to jewellers based in Kasargod. Customs officials then raided jewellery shops in Kasargod to track down 1kg of smuggled gold.

A number of customs officials were also suspended or transferred after the gold smuggling racket was exposed.

Follow Emirates 24|7 on Google News.