Gulf Arab monitors leave Syria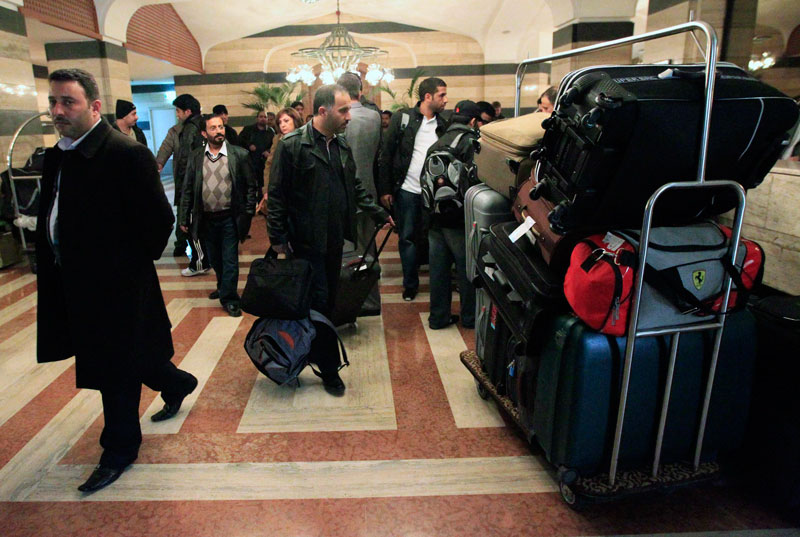 Gulf Arab monitors headed out of Syria on Wednesday after their governments said they were "certain the bloodshed and killing of innocents would continue", and the Arab League pursued UN support for a plan to end President Bashar Al Assad's rule.
But their colleagues in Damascus pledged to pursue an observer mission, now extended until February 23, to verify Syria's compliance with an earlier Arab peace plan.
"The departure of the GCC (Gulf Cooperation Council) countries will not have an impact on the mission's work. We are all professionals here and we can do the job," said a senior Arab monitor, who asked not to be named.
"We were around 170 or so and now with them leaving we are around 120," the monitor said. "We need more monitors of course and more will come soon to replace those who left."
Monitors from Kuwait, the UAE and Bahrain left the Syrian capital and those from other Gulf states were expected to leave the Syrian capital soon.
Arab League chief Nabil Elaraby and Qatari Prime Minister Hamad bin Jassim Al Thani, who heads the League's committee on Syria, wrote jointly to UN Secretary General Ban Ki-moon setting out the plan for a political solution in Syria.
The letter asks for a "joint meeting between them in the UN headquarters to inform the Security Council about developments and obtain the support of the Council for this plan," a League statement said.
Several diplomats at the United Nations said France and Britain were working with Qatar and other Arab delegations on a new draft resolution supporting the Arab League plan.
The Arab League call for Assad to step down will raise pressure on Russia to explain why it is still blocking UN action to stop the bloodshed in Syria, where Moscow has called for a dialogue.
Foreign Minister Sergei Lavrov said on Wednesday that Russia, which holds a veto in the UN Security Council, remained opposed to sanctions on Syria and reiterated its opposition to military intervention.
Syrian opposition groups have accused the observers mission, which began on December 26, of giving Assad diplomatic cover to pursue a crackdown on protesters and rebels in which more than 5,000 people have been killed since March, by a UN tally.
The opposition Local Coordination Committees reported 68 deaths of civilians and army deserters on Tuesday. The British-based Syrian Observatory for Human Rights put the toll at 35.
The Observatory said Syrian soldiers killed three people on Wednesday in Damascus province and tanks were surrounding one village and firing on another. It also said army deserters clashed with soldiers in Idlib province, disabling three armoured vehicles and killing or wounding six soldiers.
The government says it is fighting foreign-backed Islamist "terrorists" who have killed 2,000 soldiers and police. The state news agency Sana said 16 more were buried on Tuesday.
Syrian Foreign Minister Walid Al Moualem wrote to the Arab League accepting an extension of the monitoring mission, even as he scornfully rejected the 22-member body's call for Assad to hand power to his deputy and allow a new unity government to prepare for parliamentary and presidential elections.
"Definitely the solution in Syria is not the solution suggested by the Arab League, which we have rejected. They have abandoned their role as the Arab League and we no longer want Arab solutions to the crisis," Moualem declared on Tuesday.
"Heading to the Security Council will be the third stage in their plan, and the only thing left is the last step of internationalisation," he told a news conference in Damascus.
"They can head to New York or to the moon. So long as we are not paying for their tickets it is none of our concern."
Moualem poured contempt on the League's call for Assad to hand power to a unity government to defuse the violence.
He said that while "half the universe is against us," Syria's long-time ally and arms supplier Russia, which wields a veto on the Security Council, would never permit foreign intervention. "That is a red line for them."
Britain, France and the United States chastised Moscow on Tuesday for continuing to arm Syria despite the upheaval there.
French Ambassador Gerard Araud said it was "unacceptable that certain countries, including on this council, continue to provide the means of violence against the Syrian population".
The United States and their European allies have called for a U.N. arms embargo and other sanctions against Syria, but Russia vehemently opposes Security Council action.
A Western diplomat at the Security Council said: "The Arabs have said that they want a resolution that has consensus agreement, and of course we'll work for that.
"We always work for consensus in the council, but sometimes that's not possible, as with our Syria resolution," the diplomat added, referring to a Western-drafted resolution on Syria that was vetoed by Russia and China in October.

Follow Emirates 24|7 on Google News.