Gunfire and funerals in Syria town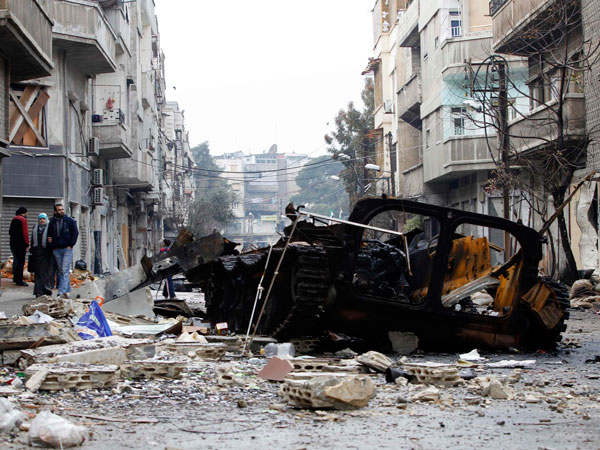 In Syria's restive city of Homs, soldiers are stationed behind sand barriers at street corners, most shops are closed and residents are nervous.
Scattered shooting is a reminder of violence that has hit the city and turned into battles between President Bashar al-Assad's government army and rebels who now control most of it.
"Every day we have a funeral. Every day we receive between four to five dead. There was one day we buried 20 soldiers," said Haitham Othman, an officer at the military hospital where the funerals of three security forces personnel were held on Monday.
"The terrorist groups have occupied two-thirds of the city of Homs. They are armed and supported by external forces. They bring weapons from Lebanon and Turkey. They are attacking the civilians and the security forces," he told reporters on a government tour of pro-Assad districts of the city.
The coffins, wrapped in Syrian flags, were taken to ambulances which carried them to villages across Homs province.
Hospital staff and relatives threw rice at them as they were escorted with military music. Colleagues and officers saluted.

Haitham Kassem, who was there to receive the body of his son-in-law, said that the 29-year-old slain policeman was "a harmless and kind person."
"He was shot in the back. He was only a traffic policeman. What did he do to deserve this? He has a three-month-old baby. What was his fault?"
Journalists were later shown four charred bodies of soldiers who officials said were killed with three other soldiers in an ambush on a bus that was taking them home. Four civilians were also killed in the attack, they said.
Ahmad Salamy, 22, was lying on a bed in the hospital. "Yesterday I was walking in the street near my house when I heard the buzzing of bullets. I couldn't move. I was hit in my leg. My neighbours saved me."

Homs, a mainly Sunni Muslim city of more than a million people with a large minority from Assad's Alawite community, has seen some of the heaviest bloodshed of the 10-month uprising against Assad's rule, including reports of sectarian killings.
Colonel Mohsen Ibrahim said the military hospital receives between 10 to 50 wounded security forces personnel every day.
"These days we are receiving more complicated cases that lead to death because now the armed groups are using more sophisticated weapons including mortars and rocket propelled grenades," he said.
The main street of the city was almost empty during the day.
After leaving the military hospital, an information ministry employee accompanying journalists warned that violence might break out. "Please stay together and run to the bus when you hear shooting," he told them.
Soldiers in combat gear stood nervously behind sand barriers at every corner.

Traders said business was dead and one said he had not sold a single item of clothing for three months. Most shops at the Hamidiyeh market were closed and the few which opened closed again at two in the afternoon. Litter covered the streets.
"People are very scared. The situation is not normal. We open our business for four hours a day," said a clothes seller.
"Down with Assad" was scribbled on one wall. "Syria's Assad" answered a slogan written on the wall facing it.
Many shopkeepers refused to speak but privately some said they were scared of the army while others said armed men were spreading fear across the city.
"They are terrorising us, scaring us. We are not safe. They have beaten up my brother. They are attacking us with rocket propelled grenades. What did we do to them?" said Layal al-Ali.
Her friend Nuhad Hussein said: "Syria was safe, they are destroying it."
They thanked the army at the checkpoints; the soldiers smiled.
"Do you know why people are not talking? They are scared of the gunmen. They know they are watching and if they say what is really going on they will come and attack them after you leave," whispered a 21-year-old student who gave his name as Tony.
"The army is here to protect us. They keep attacking the army. What kind of freedom seeker is this who attacks his own army, the army of its country?" he said.
In the street a church and a mosque stand together.
"All I want is safety," said a man in the market.
Another man urged him to say there were gunmen. "Tell them there are gunmen here. You are not seeing the gunmen?"
"I didn't see anything, all I want is stability," he said.
When sporadic shooting erupted a school teacher in her 50s smiled and said it happens every day and lasts for hours.

"We are used to it now. This is the kind of life we are living," said the woman who wore a cross. She refused to give her name. "It is not safe," she said.
Follow Emirates 24|7 on Google News.