Houthi rebels accused of confiscating aid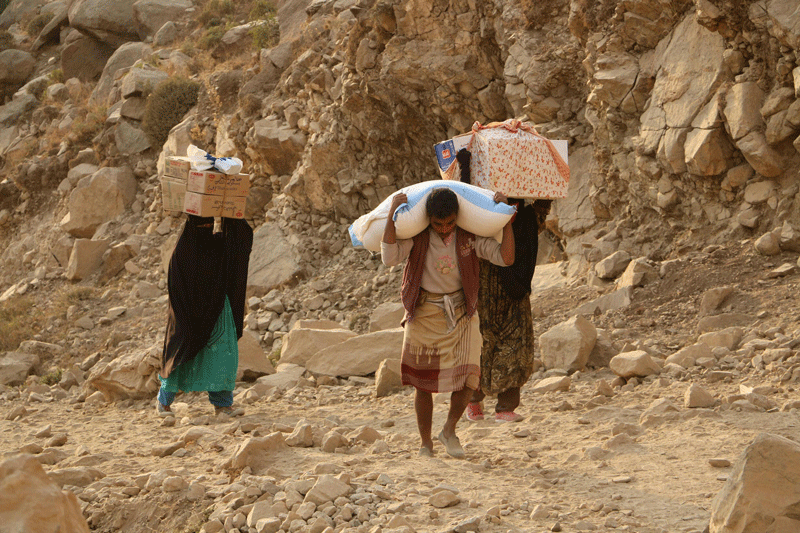 Human Rights Watch on Sunday accused Yemen's Houthi rebels of confiscating humanitarian aid sent into Taez, urging the Iran-backed insurgents to allow access into the besieged city.
The rebels "should immediately end the unlawful confiscation of goods intended for the civilian population and permit full access by aid agencies," HRW said in a statement.
"Seizing property from civilians is already unlawful, but taking their food and medical supplies is simply cruel," its deputy director for the Middle East and North Africa, Joe Stork, said.
HRW said the population of the city had dropped from about 600,000 to no more than 200,000 civilians after many fled the fighting, according to UN figures.
Since at least September, the rights watchdog said, rebel guards at checkpoints have confiscated water, food, cooking gas and medical supplies that residents tried to carry into besieged areas.
International relief agencies are also facing difficulties bringing in food and medicine, HRW said.
Doctors Without Borders said it delivered essential medical supplies to hospitals in the city in early January, in the first such 'significant' shipment since August.
That came several days after a Saudi charity said that aircraft of the Saudi-led coalition that is fighting the rebels had dropped 40 tonnes of medical equipment and food to Taez.
The coalition has since March conducted air and ground operations in Yemen to support local forces against the rebels and their allies.
More than 5,800 people have been killed in Yemen since March, about half of them civilians, according to the UN.


Follow Emirates 24|7 on Google News.