India calls for deeper ties with Sri Lanka as China looms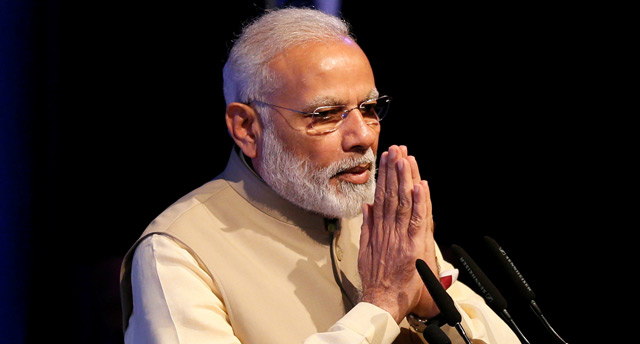 Indian Prime Minister Narendra Modi declared Friday his desire for a "quantum jump" in relations with Sri Lanka, as New Delhi jostles with regional rival Beijing for influence in the island nation.
India had always considered its smaller neighbour to be within its sphere of influence but watched Sri Lanka drift closer to China under former strongman President Mahinda Rajapakse.
Modi's visit to Sri Lanka - his second since coming to power in 2014 - is being seen as New Delhi's attempt to win back support and counter Beijing's push for closer ties with the Indian Ocean nation.
"I believe we are at a moment of great opportunity in our ties with Sri Lanka. An opportunity to achieve a quantum jump in our partnership across different fields," Modi told a Buddhist conference in Colombo.
His comments came as Sri Lanka rebuffed a Chinese request to dock a submarine at one of its ports.
Chinese-backed projects soared under Rajapakse, who relied heavily on Beijing for economic and diplomatic support as his administration was threatened with sanctions over atrocities committed during the decades-long civil war which ended in 2009.
Sri Lankan President Maithripala Sirisena came to power in January 2015 promising to review Chinese-funded projects signed by his predecessor and rebuild ties with India.
As Modi touched down in Colombo for a two-day visit Thursday, a top Sri Lankan defence official confirmed Beijing had been denied permission for a port call by a Chinese submarine.
The official, who did not wish to be named, would not comment on the timing of the decision. Two submarine calls at the Colombo harbour in 2014 had reportedly angered India, which considered it as undermining their security.
"They have asked for permission, but we have said no," the official told AFP.
"It is a very sensitive matter," he said, without elaborating further.
Modi pledged India's commitment to their "Sri Lankan brothers and sisters" and the "indivisible" ties between the two neighbours.
"We will continue to invest in driving positive change and economic growth to deepen our development co-operation," he said.
Rajapakse's political allies among the majority-Sinhalese community had called for a black flag protest during Modi's visit, accusing India of trying to grab land in a strategic port district.
But the former president sought a meeting with Modi on Thursday night and the two had a "cordial" discussion, confirmed Indian diplomats who provided no further details.
Rajapakse said on Twitter he was "happy" to see Modi.
Follow Emirates 24|7 on Google News.