India's richest man shakes up telecoms market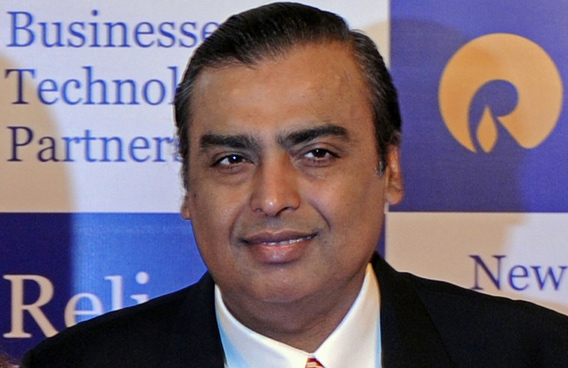 Buyouts, mergers and quick exits - as India's richest man shakes up the country's ultra-competitive mobile market, telecommunications companies are scrambling to either consolidate or cut their losses and run.
Norwegian multinational Telenor recently became the latest to quit India and analysts expect other brands will disappear as intense price wars sparked by tycoon Mukesh Ambani mean thinning profit margins.
"Most of the smaller players will find it difficult to grow by themselves and will be looking for exit options," Bhasker Canagaradjou, head of research at Ipsos Business Consulting in Mumbai, told AFP.
India's multi-billion dollar telecoms sector had a dozen companies battling for customers as recently as 2010. Now, there is around half that number and industry watchers say soon there will be only four.
The race to consolidate has hastened since Ambani sent shock waves through the sector in September when he launched Reliance Jio's 4G network with a free service for the rest of 2016 that was later extended to April.
The audacious offer was followed by vastly cheaper data plans and free voice calls for life, forcing rattled competitors to slash their own tariffs to maintain market share while also seeking extra investment.
India's telecoms sector, which global research firm International Data Corporation estimates will have market revenue of $37 billion this year, has long been a risky and costly endeavour for companies.
Network operators have to overcome regulatory difficulties to purchase expensive wireless spectrum to provide services that are often plagued by dodgy reception, frequent call drops and fluctuating internet speeds.
'Aggressive Jio'
But Jio's arrival has added a new dimension as major players, including Vodafone and Idea, explore tie-ups to match the deep pockets of the Reliance Industries-backed telecoms company, while others are being forced to call it a day.
Telenor announced in late February that market leader Bharti Airtel would acquire its Indian operations, saying the amount of investment needed to compete in the crowded sector would not offer a worthwhile level of return.
The withdrawal came after Videocon Telecom told subscribers in January that it planned to cease operations and pull out of the market. Aircel and Mobile TeleSystems (MTS) have sold up since the beginning of 2016.
Jio signed up 100 million users in its first six months and wants to lead the market with a 50 percent share by 2021, eyeing Airtel's status as India's largest telecoms provider.
Airtel's deal with Telenor will see it boost its own subscriber numbers by around 40 million and greatly enhance its spectrum coverage as it battles to fend off Jio's ambitious target.
"(The Telenor-Airtel agreement) is the latest sign that the entry of aggressive new operator Reliance Jio is spurring incumbents to consolidate to better meet the intense competition and weaker telcos to exit altogether," Fitch Ratings said.
Airtel's position is also under threat from British mobile phone behemoth Vodafone and Mumbai-based Idea Cellular. Vodafone announced in January that it was in talks to merge its Indian unit with Idea in their own response to Jio.
Global brokerage firm CLSA estimates that the pair would command a revenue market share of 43 percent by the start of the 2019-20 financial year, ahead of Airtel on 33 percent, if they combined. Jio would have 13 percent.
Profit slump
Reliance Communications (Rel Comm) - owned by Ambani's younger brother Anil Ambani - has been responsible for much of the consolidation at the lower end of the market.
Rel Comm announced that Aircel was merging with it around a fortnight after Jio's launch. It had already purchased Russian conglomerate Sistema's Indian telecoms business, branded MTS, earlier in 2016 and is now reportedly in talks with Tata Group's loss-making teleservices unit to join forces.
Indian telecoms analyst Baburajan Kizhakedath told AFP he expected the Tata Docomo brand to disappear altogether while recent Indian newspaper reports have said that the loss-making state operators BSNL and MTNL are in talks to merge.
"The ongoing consolidation is likely to leave four larger operators - Bharti, Jio, the combination of Vodafone India and Idea Cellular, and the combined Reliance Communications and Aircel Limited," said Fitch.
Jio's free services eroded the profitability of its rivals in the recent quarter with Airtel reporting a 55 percent slump in on-year quarterly net profits and Reliance Communications announcing an almost 15 percent slide.
They are hopeful that an end to Jio's free subscriptions on April 1 will provide some respite, but analysts warn that current pricing levels are unsustainable and companies may have to endure significant losses in the short term.
"(The Telecom Regulatory Authority of India) has already warned the government about the possible risk of payment defaults by the telecom companies if these freebies and price war continues for a long time," said Canagaradjou.
Follow Emirates 24|7 on Google News.