Indian budget skimps on bank bailout, but stocks buoyed by hopes of more cash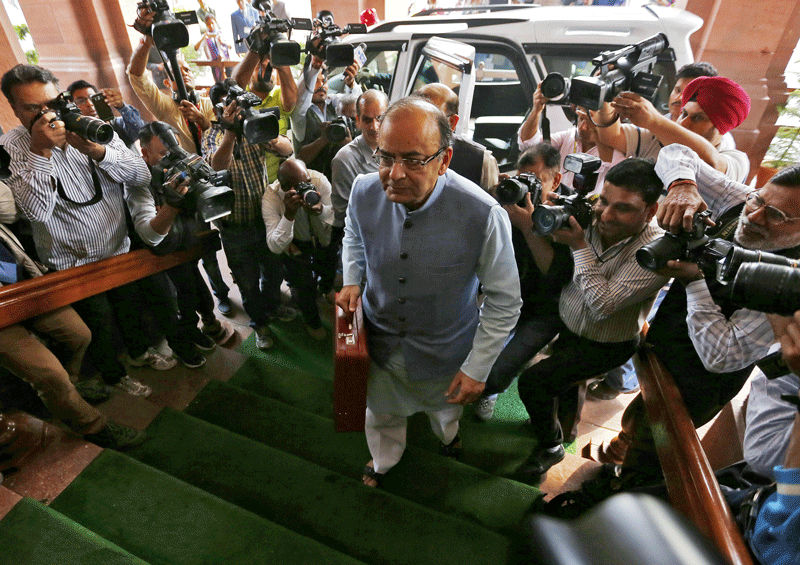 India faced criticism of skimping on efforts to bail out ailing state banks in the annual budget on Monday, but sparked a big rally in the shares of one state lender, IDBI Bank, by saying it would be ready to cede majority control.
Finance Ministry Arun Jaitley, in his budget speech, stuck to earlier plans to provide $3.7 billion in new capital next year towards the escalating cost of a sector-wide bailout that the government estimates at $26 billion over four years.
That pales by comparison with the $117 billion in stressed loans on their books, but Jaitley, by saying that he would commit unspecified further funds if needed, gave some heart to investors who sent banking stocks higher in a weaker market.
"We stand solidly behind these banks," Jaitley told lawmakers in his 100-minute speech in which he also said he would lay out a road map for banking sector consolidation.
Two dozen state-controlled lenders, led by State Bank of India, control more than two-thirds of the nation's banking assets. A history of political interference, weak management and the lack of a bankruptcy code have created a mass of unrecoverable debts.
Lenders have been hit hard by a surge in bad and troubled loans even as the economy has grown quickly, increasing their capital needs beyond the 1.8 trillion rupees ($26 billion) the government estimates they must raise to meet global bank capital rules by 2018.
In his budget speech, Jaitley said the government would inject 250 billion rupees ($3.65 billion) into the state-run banks during the 2016/17 fiscal year that starts on April 1 - unchanged from previously.
"The requirement is much larger, considering the current stress level disclosed by the banks," said Kalpesh Mehta, a senior director at consultants Deloitte India.
The banking sector index bounced back to close 1.12 per cent higher in a Mumbai market that fell 0.6 per cent. Hopes of a rate cut also helped banking stocks, traders said.
Some bankers drew comfort from Jaitley's statement that the government would back the lenders when they need capital.
"He has given a statement that they will be providing all sort of additional support wherever we require. That's great news," said R.K. Gupta, executive director at state-run Bank of Maharashtra. "Of course we were expecting he will quote some number."
Jaitley said separately that the government would consider cutting its stake in state-run IDBI Bank to below 50 percent, sending the bank's shares up to 16.5 per cent higher.
Government ministers and officials have previously said that they were open to bringing in a strategic investor in IDBI Bank as a test case.
Jaitley also said the government would allow asset reconstruction companies, which buy bad loans from banks, to be fully owned by their sponsors, a measure aimed at bolstering the capital-starved sector. He also planned to allow foreigners to own 100 percent of these companies without having to seek prior government approval.
India pledges billions for farmers in budget
India's government pledged billions of dollars to help struggling farmers and boost the rural economy as it unveiled its annual budget on Monday, with an eye on kickstarting growth.
India is now the world's fastest-growing major economy, but two years of drought and a failure to create jobs for a burgeoning young population has left millions of rural Indians struggling.
The government came to power nearly two years ago promising to transform India's economic fortunes, but has been hampered by the global economic slowdown and a failure to push much-needed reforms through parliament.
Finance Minister Arun Jaitley acknowledged the challenges as he presented the budget in parliament, but said he had a 'vision to transform India.'
"We have a desire to provide socio-economic security to every Indian, especially the farmers, the poor and the vulnerable," he said.
"We have a dream to see a more prosperous India and a vision to transform India."
Jaitley pledged to spend 359 billion rupees ($5.2 billion) on doubling the income of India's estimated 120 million farmers over the next five years through measures including a crop insurance scheme and better access to markets.
India also plans to raise credit available to farmers to 9 trillion rupees for 2016-2017, and has pledged to ensure all the country's villages would have electricity within two years.
It will increase spending on the National Rural Employment Guarantee Scheme, which guarantees 100 days of employment on public works each year for any household that requests it.
Analyst Samir Saran said the ruling Bharatiya Janata Party (BJP) was 'responding to the political reality' ahead of crucial state elections this year and next.
"The BJP has to lay greater emphasis on social policy, it has to deliver a more populist budget," said Saran, a senior fellow at the Observer Research Foundation think tank.
"The government is also responding to the fact that farmers have suffered two bad monsoons and there is great stress in the rural sector."
The BJP needs to perform well in those elections in order to push stalled economic reforms through the national parliament, where it lacks a majority.
These include Prime Minister Narendra Modi's flagship plan to introduce a national Goods and Services Tax (GST) to replace myriad complex state and national levies seen as deterring much-needed investment.
India is seen as a relative bright spot in the world economy, but feeble global demand has caused its exports to shrink for 14 months in a row and investment remains weak.
On Friday the government forecast gross domestic product (GDP) would expand between 7.0 per cent and 7.75 per cent in the next financial year, marking little change from this year's levels.
The main Sensex index on the Bombay Stock Exchange fell 300 points during Jaitley's presentation of the budget, which included a hefty 23 per cent pay rise for millions of civil servants and a pension scheme for retired soldiers.
The two schemes will add billions of dollars to the government's spending bill over the next year, but Jaitley said it would stick to its ambitious target to cut the fiscal deficit to 3.5 percent of GDP in 2016-2017.
He also pledged to spend 2.21 trillion rupees on improvements to its roads and other infrastructure seen as key to attracting investment for manufacturing.
The government will also inject 250 billion rupees into India's public sector banks.
Despite a major push to boost manufacturing, farming remains by far the biggest employer in India and the sector is struggling after two years of weak monsoon rains.
Follow Emirates 24|7 on Google News.