Iran denies role in Israeli embassy attack in Delhi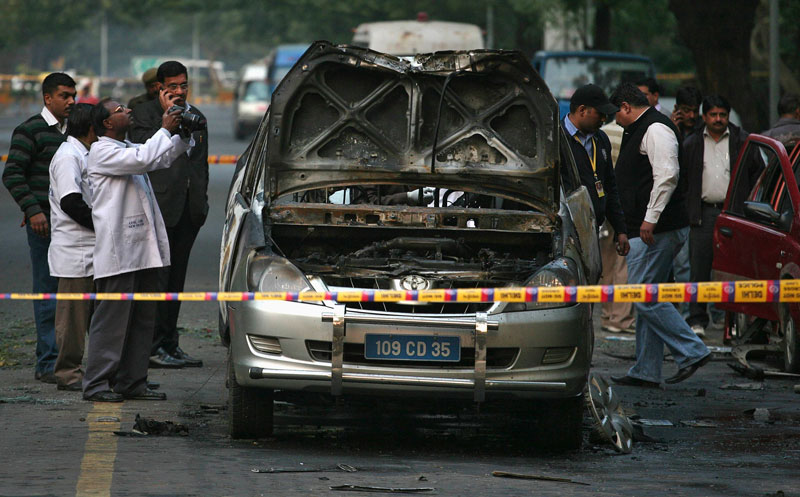 Iran rejects as "sheer lies" accusations that it was involved in a bomb attack on the Israeli embassy in India, the Irna news agency quoted the Islamic Republic's ambassador to New Delhi as saying on Monday.
"Any terrorist attack is condemned (by Iran) and we strongly reject the untrue comments by an Israeli official," Mehdi Nabizadeh was quoted as saying by Irna. "These accusations are untrue and sheer lies, like previous times."
Bombers targeted staff at Israel's embassies in India and Georgia on Monday, wounding four people, and Israeli Prime Minister Benjamin Netanyahu accused Iran and its Lebanese ally Hezbollah of involvement.
The New Delhi bomb wrecked a vehicle with diplomatic plates and Israel's parliamentary television channel said the wife of Israel's defence attache and her driver were among four people hurt. The Tbilisi bomb was defused safely by Georgian police.
Israel had put its foreign missions on especially high alert ahead of the February 12 anniversary of the assassination, in 2008, of the military mastermind of Lebanon's Hezbollah guerrillas, Imad Moughniyeh.
Iranian-backed Hezbollah had vowed to avenge Moughniyeh's death in a Damascus car-bombing, blaming it on the Jewish state.
"Iran, which stands behind these attacks, is the largest exporter of terror in the world," Netanyahu told lawmakers from his Likud party in Jerusalem.
He linked the incidents to allegations of similar but foiled attacks in Thailand and Azerbaijan last month for which, he said, Iran and its "proxy" Hezbollah were responsible.
The New Delhi blast took place some 500 metres from the official residence of Indian Prime Minister Manmohan Singh.
"I heard a bomb blast near the petrol pump. I went to see what happened and the next thing I saw was the car ablaze. There was a lady and a driver inside the car. The people pulled them out of the car," said Ravi Singh, a witness.
A number of witnesses told Indian television they saw two people on a motorbike sticking a device onto the rear of the car when it stopped at a traffic signal.
Georgian police prevented a similar incident, defusing a bomb found in a car of an Israeli embassy staff member.
Thailand said last month it had arrested a Lebanese man who had links with Hezbollah and a confiscated cache of explosives. Israel responded by urging its citizens to exercise caution while visiting Thailand.
Separately last month, authorities in Azerbaijan arrested two people suspected of plotting to attack Israel's ambassador and a local rabbi.
In a January 24 speech, Israel's military chief, Lieutenant-General Benny Gantz, accused Hezbollah of trying to carry out proxy attacks while avoiding direct confrontation. Israel and Hezbollah fought an inconclusive and costly war in 2006.
"During this period of time, when our enemies in the north avoid carrying out attacks, fearing a harsh response, we are witnesses to the ongoing attempts by Hezbollah and other hostile entities to execute vicious terror attacks at locations far away from the state of Israel," Gantz said. "I suggest that no one test our resolve."

Follow Emirates 24|7 on Google News.