Iran rails against West's 'economic war'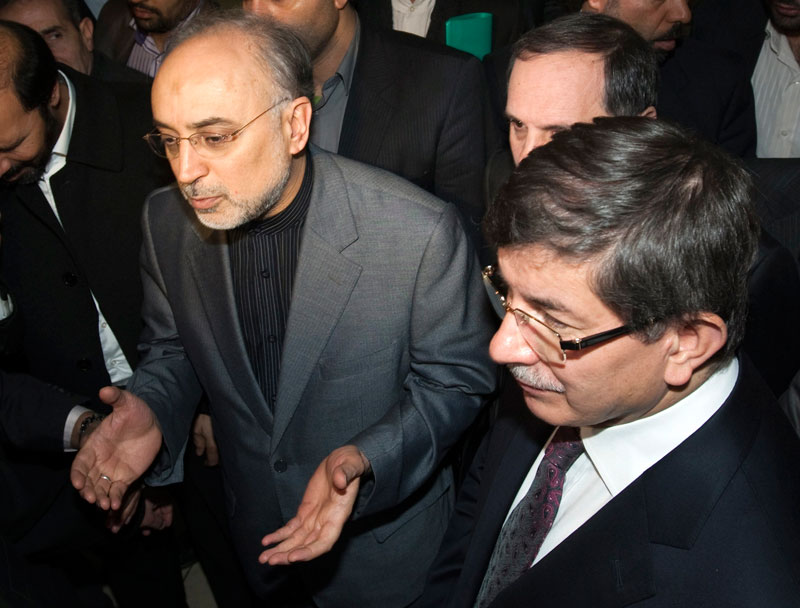 Iran on Thursday said the West was waging "an economic war" through sanctions, after European diplomats said there was a preliminary agreement for an EU ban of oil from the Islamic republic.
"The enemies of the Islamic republic's regime, with all their tricks, have not been able to chain the nation and now they want to chain the economy," Economy Minister Shamseddin Hosseini said, in comments carried by the official IRNA news agency.
"These sanctions are an economic war against us," he said, urging Iranians to defeat them.
At the same time, other officials played down the impact of the looming EU ban, saying demand was so high for Iranian oil that they would have no trouble selling it elsewhere.
"We hope that Iran's oil is not sanctioned officially but if so we have taken the needed arrangements," director of international affairs for the National Iranian Oil Company, Mohsen Qamsari, was quoted as saying on Iran's oil ministry website.
The 27-nation European Union has struck "an agreement in principle" to ban Iranian oil imports, an EU diplomat in Brussels told AFP.
Negotiations were ongoing to determine when the ban should start, though France said it hoped to see it announced at an EU foreign ministers' meeting on end of January.
The West's sanctions squeeze on Iran stems from fears the country is trying to develop an atomic bomb under cover of a nuclear programme it insists is exclusively for peaceful, civilian use.
Iran exports around 18 percent of its oil to the European Union, making the bloc the second-biggest destination after China. Oil revenues make up 80 percent of Iran's foreign currency earnings.
An EU-wide ban could theoretically land a heavy blow on Iran's economy, which is already weakened by successive Western sanctions.
But Iran's political leaders and its oil company have said it can easily offset an EU ban by simply shifting exports to Asia.
The United States, which last weekend enacted a new law hitting Iran's central bank which processes most of the Islamic republic's oil sales, hailed the EU move and said it wanted other countries to follow suit.
"These (EU measures) are the kinds of steps that we would like to see not just from our close allies and partners in places like Europe but from countries around the world," US State Department spokeswoman Victoria Nuland said.
"We do believe that this is consistent with tightening the noose on Iran economically," she said. "We think that the place to get Iran's attention is with regard to its oil sector."
To that end, US Treasury Secretary Timothy Geithner was to travel to China and Japan next week to discuss sanctions "coordination".
Beijing on Wednesday said it opposed "unilateral sanctions" against Iran. But Washington is hoping that, at the very least, China will extract deep discounts if it continues to buy Iranian oil.
The new US sanctions aim at forcing foreign countries and companies to choose between doing business with Iran or with the United States. Exemptions can be granted, but reportedly only if countries show they are significantly reducing Iranian oil purchases.
Despite the public shrug at the extra sanctions looming, there are signs of Iran's fury at the pressure.
Military and political leaders have threatened to close the strategic Strait of Hormuz in the Gulf -- through which 20 percent of the world's oil flows -- to all Middle East oil tankers if Iran's petroleum sales are blocked.
They have also warned the "full force" of its navy will be unleashed if the United States tries to redeploy an aircraft carrier to its 5th Fleet base in Bahrain, in the Gulf.
Early this week, Iran's navy completed 10 days of war games in which it tested three anti-ship missiles.
The developments have sent oil prices higher. Although they fell back slightly in Asian trading, they remained underpinned by the tensions over Iran.
New York's main contract, West Texas Intermediate crude for delivery in February, was ê103.12 a barrel while Brent North Sea crude was ê113.45 per barrel.
Iran's economy is already facing turmoil, with its currency, the rial, showing extreme volatility.
After plummeting 12 per cent against the dollar on Monday to an all-time low, in the wake of the new US sanctions, Iran's central bank stepped in to shore up the rial by imposing a lower fixed rate of 14,000 to the dollar.
But many exchange bureaux refused to sell dollars at that level and simply shuttered their windows.
On Thursday, the central bank's order appeared to have been lifted, with a specialised website, www.mesghal.ir, showing the rial 14 per cent lower, at 15,950 to the dollar.
The government has insisted the volatility is not related to the sanctions.

Follow Emirates 24|7 on Google News.