Iraq militants surge toward Baghdad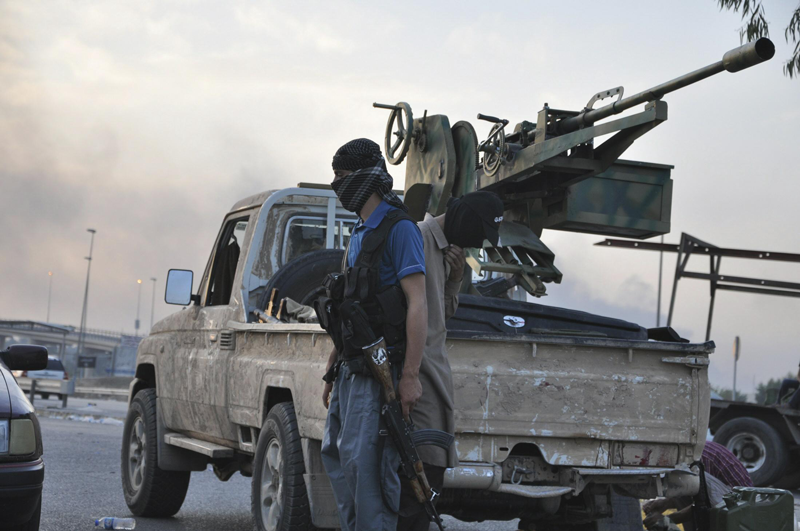 Iraqi Kurdish forces took control of the northern oil city of Kirkuk on Thursday, after government troops abandoned their posts in the face of a triumphant Islamist rebel march towards Baghdad that threatens Iraq's future as a unified state.

In Mosul, militants of the Islamic State of Iraq and the Levant (Isil) staged a parade of American Humvees seized from the collapsing Iraqi army in the two days since the fighters drove out of the desert and overran Iraq's second biggest city.

Two helicopters, also seized by the militants, flew overhead, witnesses said, apparently the first time the militant group has obtained aircraft in years of waging insurgency on both sides of the Iraqi-Syrian frontier.

State television showed what it said was aerial footage of Iraqi aircraft firing missiles at insurgent targets in Mosul. The targets could be seen exploding in black clouds.

Further south, the fighters extended their lightning advance to towns only about an hour's drive from the capital Baghdad, where militia are mobilising for a potential replay of the ethnic and sectarian bloodbath of 2006-2007.

Trucks carrying volunteers in uniform rumbled towards the front lines to defend the capital.

The stunning advance of Isil, which aims to build a Caliphate ruled on Islamic principles across Syria and Iraq, is the biggest threat to Iraq since U.S. troops withdrew in 2011. Hundreds of thousands of people have fled their homes in fear as the militants seized the main cities of the Tigris valley north of Baghdad in a matter of days.

The security forces of Iraq's autonomous Kurdish north, known as the peshmerga, or those who confront death, took over bases in Kirkuk vacated by the army, a spokesman said.

"The whole of Kirkuk has fallen into the hands of peshmerga," said peshmerga spokesman Jabbar Yawar. "No Iraqi army remains in Kirkuk now."

Kurds have long dreamed of taking Kirkuk and its huge oil reserves. They regard the city, just outside their autonomous region, as their historical capital, and peshmerga units were already present in an uneasy balance with government forces.

The swift move by their highly organised security forces to seize full control demonstrates how this week's sudden advance by Isil has redrawn Iraq's map - and potentially that of the entire Middle East.

Since Tuesday, black clad Isil fighters who do not recognise the region's modern borders have seized Mosul and Tikrit, home town of former ruler Saddam Hussein, as well as other towns and cities north of Baghdad.

The army of Prime Minister Nuri Al Maliki's government in Baghdad has essentially evaporated in the face of the onslaught, abandoning bases and US-provided weapons.

The administration of US President Barack Obama has come under fire for failing to do enough to shore up the government in Baghdad before pulling out its troops.

Security and police sources said Sunni militants now controlled parts of the small town of Udhaim, 90 km north of Baghdad, after most of the army troops left their positions and withdrew towards the nearby town of Khalis.

"We are waiting for supporting troops and we are determined not to let them take control. We are afraid that terrorists are seeking to cut the main highway that links Baghdad to the north," said a police officer in Udhaim.

OIL PRICE SURGE

The UN Security Council was expected to meet later on Thursday. Iraq's ambassador to France said it would call for weapons and air support.

"We need equipment, extra aviation and drones," Fareed Yasseen said on French radio. The Council "must support Iraq, because what is happening is not just a threat for Iraq but the entire region."

The global oil benchmark jumped about $2 on Thursday, as concerns mounted that the violence could disrupt supplies from the Opec exporter. Iraq's main oil export facilities are in the south and were "very, very safe", oil minister Abdul Kareem Luaibi said.

Isil fighters have overrun the town of Baiji, site of the main oil refinery which meets Iraq's domestic demand for fuel. Luaibi said the refinery itself was still in government hands.

In Tikrit, video footage showed dozens of members of a police special forces battalion held prisoner, paraded before a crowd by fighters who overran their base.

Militants have set up military councils to run the towns they captured, residents said.

"They came in hundreds to my town and said they are not here for blood or revenge but they seek reforms and to impose justice. They picked a retired general to run the town," said a tribal figure from the town of Alam, north of Tikrit.

"'Our final destination will be Baghdad, the decisive battle will be there,' that's what their leader of the militants' group kept repeating," the tribal figure said.

Security was stepped up in Baghdad to prevent the militants from reaching the capital, which saw ferocious sectarian street fighting in 2006-2007 under US occupation.

By midday on Thursday insurgents had not entered Samarra, the next big city in their path on the Tigris north of Baghdad.

"The situation inside Samarra is very calm today and I can't see any presence of the militants. Life is normal here," said Wisam Jamal, a government employee in the city.

LOW MORALE

The million-strong Iraqi army, trained by the United States at a cost of nearly $25 billion, is hobbled by low morale and corruption. Its effectiveness is hurt by the perception in some areas that it pursues the hostile interests of Maliki's government.

During the US occupation, Washington encouraged Maliki to reach out to the minority that lost power after Saddam's fall. But since the U.S. withdrawal, Maliki pushed them out of his ruling coalition, creating resentment insurgents exploit.

The Obama administration had tried to keep a contingent of troops in Iraq beyond 2011 to prevent a return of insurgents, but failed to reach a deal with Maliki's government.

In Washington, an administration official said Maliki's government had in the past sought U.S. air strikes against Isil positions. The White House suggested such strikes were not being considered and Washington's main focus now is on building up government forces.

Iraq's parliament was meant to hold an extraordinary session on Thursday to vote on declaring a state of emergency, but failed to reach a quorum, a sign of the sectarian political dysfunction that has paralysed decision-making in Baghdad.

About 500,000 Iraqis have fled Mosul, home to two million people, and the surrounding province, many seeking safety in autonomous Kurdistan, a region that has prospered while patrolled by the powerful peshmerga, avoiding the violence that has plagued the rest of Iraq since the U.S. invasion in 2003.

The Kurdish capture of Kirkuk overturns a fragile balance of power that has held Iraq together since Saddam's fall.

Iraq's Kurds have done well since 2003, running their own affairs while being given a fixed percentage of the country's overall oil revenue. But with full control of Kirkuk - and the vast oil deposits beneath it - they could earn more on their own, eliminating the incentive to remain part of a failing Iraq.

Maliki's army already lost control of much of the Euphrates valley west of the capital to Isil last year, and with the evaporation of the army in the Tigris valley to the north, the government could be left with just Baghdad and areas south.

The militants' surge also potentially leaves the long desert frontier between Iraq and Syria effectively in Isil hands, advancing its stated goal of erasing the border and creating a single state ruled according to Islamic principles.

Iran could be brought deeper into the conflict, as could Turkey.

In Mosul, 80 Turkish citizens were being held hostage by Isil after its consulate there was overrun. Turkey threatened to retaliate if any of the group, which included special forces soldiers, diplomats and children, were harmed.

Maliki described the fall of Mosul as a "conspiracy" and said the security forces who had abandoned their posts would be punished. He also said Iraqis were volunteering in several provinces to join army brigades to fight Isil.

In a statement on its Twitter account, Isil said it had taken Mosul as part of a plan "to conquer the entire state and cleanse it from the apostates", referring to the province of Nineveh of which the city is the capital.

Militants were reported to have executed soldiers and policemen after their seizure of some towns.

Ambassadors of the Nato defence alliance held an emergency meeting in Brussels at Turkey's request and Prime Minister Tayyip Erdogan held talks with US Vice President Joe Biden about the developments.

Isil, led by Abu Bakr Al Baghdadi, broke with Al Qaeda's international leader, Osama bin Laden's former lieutenant Ayman Al Zawahri, and has clashed with Al Qaeda fighters in Syria.

In Syria it controls swathes of territory, funding its advances through taxing local businesses, seizing aid and selling oil. In Iraq, it has carried out regular bombings against civilians, killing hundreds a month.



Follow Emirates 24|7 on Google News.