Iraq's Fallujah falls to Qaeda militants as 65 killed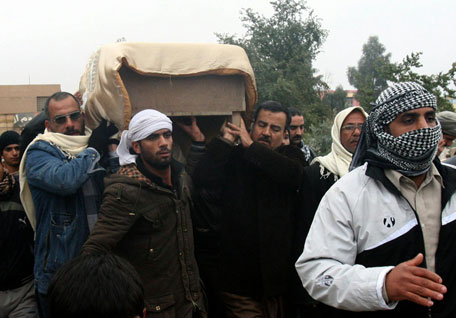 Iraq has lost Fallujah to Al Qaeda-linked fighters, a senior security official said Saturday, putting militants back in control of the city in Anbar province where American forces repeatedly battled insurgents.

And fighting in Anbar killed 65 people -- eight soldiers, two government-allied tribesmen and 55 militants from the Al Qaeda linked State of Iraq and the Levant (ISIL), security officials said.

It is the worst violence to hit Anbar province in years, and the first time militants have exercised such open control in major cities since the height of the bloody insurgency that followed the 2003 US-led invasion.

Fighting erupted in the Ramadi area Monday, when security forces cleared an anti-government protest camp set up after demonstrations erupted in late 2012 against what Arabs say is the marginalisation and targeting of their community.

The violence then spread to Fallujah, and a subsequent withdrawal of security forces from areas of both cities cleared the way for militants to seize areas of both cities and hold them for days.

"Fallujah is under the control of ISIL," said a senior security official in Anbar.

An AFP journalist inside Fallujah also said ISIL seemed to be in control, with no security forces or Sahwa anti Al Qaeda militiamen visible on the streets.

Iraqi ground forces commander Staff General Ali Ghaidan Majeed said security forces killed 55 ISIL fighters in Anbar.

Eight soldiers and at least two government-allied tribesmen were also killed in the Ramadi and Fallujah areas, security officials said.

Majeed said there were three groups fighting: security forces and allied tribes; ISIL; and forces of the anti-government "Military Council of the Tribes".

Iraqi Prime Minister Nuri Al Maliki vowed Saturday that "we will not back down until we end all terrorist groups and save our people in Anbar".

And the United States slammed ISIL's "barbarism against civilians of Ramadi and Fallujah and against Iraqi security forces".

On Friday alone, more than 100 people were killed in Ramadi and Fallujah, in Iraq's deadliest single day in years.

Hundreds of gunmen, some bearing the black flags often flown by jihadists, had gathered at outdoor weekly Muslim prayers in central Fallujah, where one militant announced that "Fallujah is an Islamic state," a witness said.

The city was the target of two major assaults after the 2003 US-led invasion, in which American forces saw some of their heaviest fighting since the Vietnam War.

American troops fought for years, aided by Sunni tribesmen in the Sahwa militia forces from late 2006, to wrest control of Anbar from militants.

Militant power rising

The US forces suffered almost one-third of their total Iraq fatalities in Anbar, according to independent website icasualties.org<https://icasualties.org>.

But two years after US forces withdrew from the country, the power of militants in the province is again rising.

ISIL is the latest incarnation of an Al Qaeda affiliate that lost ground from 2006, as tribesmen and former insurgents joined US troops against jihadists in a process that began in Anbar and came to be known as the "Awakening".

But the group has made a striking comeback following the US withdrawal and the outbreak of Syria's civil war in 2011.

Charles Lister, a visiting fellow at the Brookings Doha Center, said its "strength and territorial control and influence has been expanding in Anbar for some time," although mainly in rural desert areas.

The Ramadi protest camp operation pushed Sunni tribes into conflict with the government, and ISIL "has ridden this wave of popular Sunni anger," Lister said.

Prime Minister Maliki had long sought the closure of the protest camp, dubbing it a "headquarters for the leadership of Al Qaeda".

But its removal has caused a sharp decline in the security situation.

And while the closure has removed a physical sign of Arab grievances, the perceived injustices that underpinned the protest have not been addressed.

Violence in Iraq last year reached a level not seen since 2008, when it was just emerging from a brutal period of sectarian killings.

Sunni anger helped fuel the surge in unrest, boosting recruitment for militant groups and decreasing cooperation with security forces, while the civil war in Syria also played a role, experts say.

Follow Emirates 24|7 on Google News.