Kid kills cousin to re-enact Turkish TV drama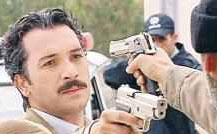 A nine-year-old Saudi boy killed his cousin, 14, using his grandfather's gun and police said the boy appeared to be influenced by a popular Turkish TV drama.

The boy sneaked into his grandfather's room, brought his gun and aimed at his cousin's belly before firing at him at their house in the southern province of Jazan.

"He was trying to re-enact a scene in the Turkish TV drama 'The Good Land," newspapers said, quoting police spokesman Abdul Rahman Al Zahrani.

The Saudi-owned satellite TV channel MBC is showing the Turkish series which has drawn a large number of Arab viewers and angered Kurds on the grounds it involves racist content against them.
Follow Emirates 24|7 on Google News.