Makkah Grand Mosque Crane Crash: SR1 million compensation for each victim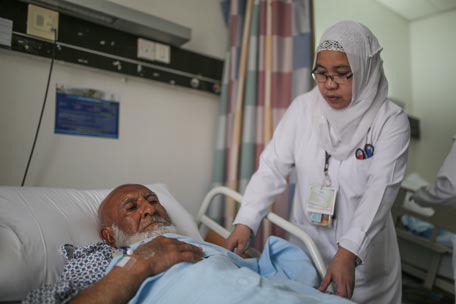 Saudi Arabia's King Salman bin Abdulaziz Al Saud has ordered to pay one million Saudi riyal (Dh979,445; US$266,679) compensation to the families of the pilgrims died in the crane fall accident at the Grand Mosque in Makkah.
According to Saudi Press Agency (SPA), one million riyals will also be given to each injured whose injury resulted in permanent disability. While half a million riyals will be given to each other injured pilgrim.
Nearly 107 people were killed and almost 400 were injured in the crane crash during a severe thunderstorm accompanied by violent winds. Among the dead were Saudis, Iranians, Nigerians, Malaysians, Indonesians, Indians and Pakistanis.
Saudi suspends Binladin group for crane crash

The King also issued directives that such payment would not deprive the families of the deceased as well as the injured from the right to claim for private right before the competent judicial authorities, SPA said.
The King also ordered to host two family members of the deceased as the King's guests to perform Hajj in 1437H – next year.
The injured who cannot perform Hajj this year can perform Hajj next year as the King's guests, the news agency said, adding that the families of the injured who stay in hospitals for treatment shall be granted visit visas to take care of the injured during the remaining period of Hajj and return back to their country.
The Accident Investigation Committee of Grand Mosque concluded that the main reason for the accident is the strong winds while the crane was in a wrong position.
Follow Emirates 24|7 on Google News.